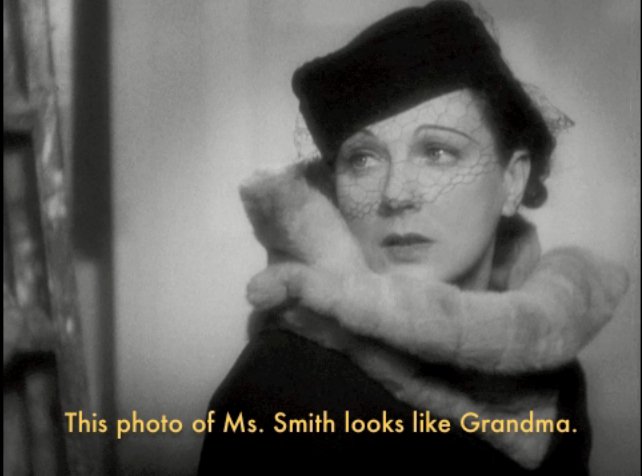 Sasha Dela: The Emotional Life of a Spy closes this Friday, July 6th at the Art League Houston so you don't even have the weekend to catch it. If you haven't seen it, you should. Using Hitchcock's The 39 Steps as raw material Dela retells the story, cutting scenes with her own text and images to shift the film's mystery to a personal poignancy. It's very beautifully done and dedicated to her beloved and recently deceased grandmother who "had the emotional life of a spy."
To give you a far better sense of the project, here is Dela's video exhibition proposal.
Perspectives 178 : CINEPLEX through July 8th
Perspectives 178 : CINEPLEX is up through this Sunday, July 8th. (Check out the CAMH's newly expanded hours here!) Curated by Peter Lucas, CAMH Education Associate (and sometime Glasstire blogger!), CINEPLEX presents artists who, like Dela, use film as raw material. It includes a great Christian Marclay video, Telephones (1995), a skillfully edited collection of telephone scenes from films. It is also first of Marclay's ever-impressive film collages. There's also Gustaf Mantel's If We Don't, Remember Me, choice selections from the artist's strangely riveting tumblr blog. Mandel crafts "living film stills" which are actually seconds of film that he loops. You see stuff like the photographer from the 1966 classic Blow Up (David Hemmings) endlessly shooting an image or Edward Norton from Fight Club (1999) sleeping on a plane and jerking awake, over and over and over. Mantel seemingly traps these film characters for all eternity in moments of his choosing.
CINEPLEX has been up since mid-April and has featured weekly screenings and a series of films in its own theater within the exhibition. The show goes out with a bang with Mess with Texas, a collection of films commissioned in conjunction with the Aurora Picture Show and the Texas Archive of Moving Image (TAMI). Artists Alec Jhangiani (with producer James Johnston), Alex Luster, Kelly Sears, Scott Stark and Mark and Angela Walley were turned loose in TAMI's "vast collection of Texas-related movies, newsreels and homemade films" in order to create their own work from the footage.
Mess with Texas opens tonight (Thursday, July 5) at 7:30 and will be screened in the CINEPLEX theater through the end of the show on Sunday, July 8th.
HJ BOTT: A 40 Year Celebration through July 8th
The Galveston Art Center and curator Clint Willour almost invariably have something great on view.  It's a nearby venue that I always wish I checked out more often. (Galveston isn't that far!)  HJ BOTT: A 40 Year Celebration closes this Sunday, July 8th. Harvey Bott is an incredibly inventive and eclectic artist and he's made a lot of work informed by his impressive mathematical abilities. I'm a particular fan of his tape drawings from the 50s which presaged Stella and are better. Then there was the whole room sized installation with black light and string that was wonderfully low-tech high-tech.  The Galveston show centers around the "Displacement of Volume Concepts" or DoV, an interlocking shape the artist developed 40 years ago.  I haven't seen the show yet but includes one of the artist's robots from the 80s, "Rowe." Interestingly, Clint Willour provided the robots original voice 30 years ago.
Bott will be signing copies of the monograph Rhythm and Rhetoric: 40 Years of the DoV Concepts at the Galveston Art Center this Saturday, July 7th from 2 – 4 p.m.  (Full disclosure, I wrote a brief biography of the artist for the book. Bott is one of those people whose life story is too unbelievable for fiction…)