In a little carved out space of the Hoffman Galleries at the DMA, there are three pieces by Japanese artist Nobuo Sekine, founder of the Mono-ha Movement (mono-ha translates to "school of things") that are wonderful, on view through September 2. I had heard that the Rachofskys were amassing work by post-war Japanese artists, and here's a bit of it, recently purchased by The Rachofsky Collection and the Dallas Museum of Art through the DMA/amfAR Benefit Auction Fund.
The three pieces on view by Sekine, as with all Mono-Ha work, focus on the alteration of one material by another, or the effect of two opposing forces on one another. The two immense, black steel vessels, Phase of Nothingness — Water, are full to the brim, almost imperceptibly, with water. In the gallery, the surface of the water acts like a mirror, playing back the ceiling and the faces of viewers, and collecting the tiny bits of dust, skin and detritus that float through the air without our knowing. Though the shapes of the vessels are different, each have the same volume, therefore holding the same amount of water.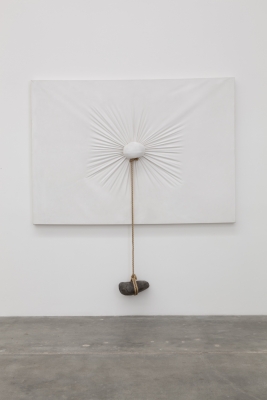 The piece Phase of Nothingness — Cloth and Stone, is just a knock out. I'll say nothing about it because it's about Everything. I'll just let it do its work (and make you cry).
The other piece in the gallery, a steel and lacquer piece called Phase No. 10, 1968, is a optical twist of color and metal that is a counterweight to the serene organic simplicity in the other two pieces. It feels current and classic, too.
Seeing work like this is so refreshing, perhaps because it's so essential, as in about the the essence of things. It's clarifying and centering and I'm grateful to see it.