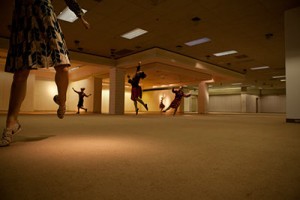 Independent Art Collaborative, move over! The new West Oaks Art House, the crazy-ambitious scheme to turn a 100,000 square foot former department store into a massive art venue in west Houston, has opened. On Saturday, June 9, 16 dancers from Suchu Dance Company performed "Afternono," roaming and mingling with audience members in the cavernous former JCPenney space as part of the 10th anniversary of their Big Range Dance Festival.  According to Swamplot, which has been following the re-purposing project from a real estate angle, impresario Sharsten Plenge, daughter of  Steve Plenge, the managing principal of mall owner Pacific Retail Capital Partners, has tidied up the space, and said that the  inaugural performance in the mega-space "marks the beginning of what we hope to be many more unique projects."
It's never going to be as cushy as a purpose-built theater, but with advantages like free rent, endless acreage, and being already built, the ad-lib venue is already providing  performance space to Suchu, one of the IAC's proposed tenants!
In case you missed it, there's going to be another performance on Saturday June 16, at 1pm.