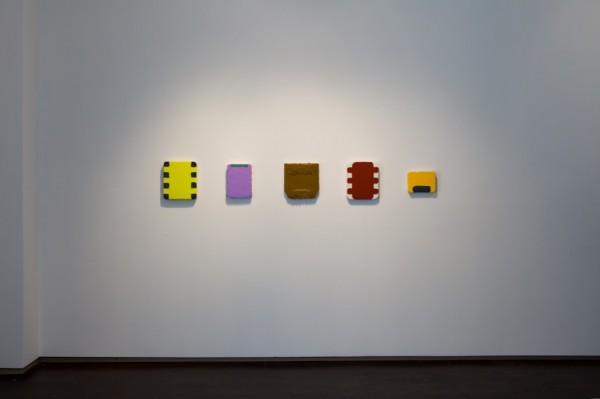 I'd seen Bret Slater's work before, in his studio, just prior to all of it getting zipped into a big duffle bag and schlepped across the Atlantic for Art Brussels by his Belgian dealer, Elaine Levy, where all of it promptly sold, apparently some of it to a French supermodel, but I can't back that up. I just read it on Facebook. But the fact that Slater's work can, as a body, get packed in a bag and brought as a carry-on on an international flight begs some consideration: these paintings are small, some of them even teeny. And the fact that French supermodels might want to own some, or that these things have flown off the walls of wherever they've been shown, is also worthy of consideration. Slater is fast becoming the next big art thing to come out of Dallas and enter the international art scene, and with little paintings, no less, that rage against the standard notion that you have to make big work to get noticed.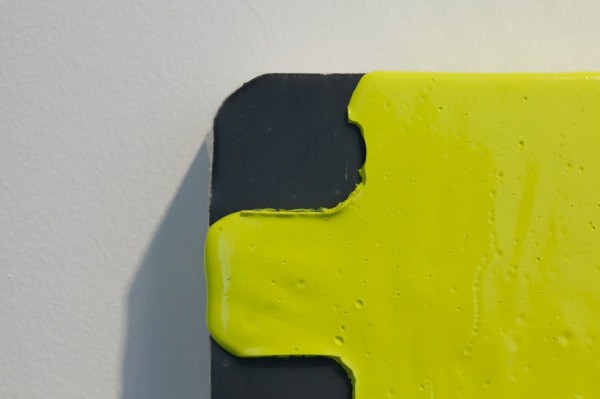 Given their size, I had a hunch that they would do very well in Marty Walker's diminutive gallery where Slater has a show up through the weekend. In fact, Slater's a perfect fit for Walker's downsized space where encountering the delicious, bubble gummy-decadence of Slater's paint surfaces is intimate and up-close, kind of like getting shoved into a duffle bag with them, and I mean that in the best possible way: Here in Walker's gallery you can really see these pungent and rich, monstrously globby little paintings. They rock out from the walls in an array of neons, monochromes and earth tones that respectfully carry the art traditions they allude to — Pop art, minimalism, color field painting — and fray them to shreds all at the same time. Some are quiet and nearly rigid, as in a white on white piece called Lithium that recalls the work of Robert Ryman but then trumps the reference through the wonky, translucent "handles" of paint at the top and bottom of the work. Clearly, Slater is no suit-and-tie painter like Ryman, as his other more raucously colored works may also attest, like Celestial Crown (above), an electric yellow-green piece with Slater's trademark "teeth" marks at the sides which reveal a grey-black field beneath. The shape is inspired by a turtle shell, as Slater mentioned to me once, but it's more Mutant Ninjas than anything from nature directly. As with all of Slater's references, the turtle one has been pushed through the sieve of his own identity, blended into a controlled violence, like a metal-head with very good manners.
Along with Ryman and other artists, like Richard Tuttle, Slater's paintings are highly influenced by Slater's mentor, Dallas painter Otis Jones, whose scarred and slathered paint surfaces are everywhere reiterated and translated in the work of his young protégé.  It's clear that the restraint that reveals itself in Slater's work – the size, the shaped canvases, the muted or pure colors, the peripheral shapes — is most likely a lesson learned from Jones, whose work bears those same traits. But, as Marty Walker said recently, we're witnessing the passing of the torch in Slater's work, a generational hand-off between these two artists. But I also see Jones' work getting more interesting — a bit more daring — right alongside Slater's. Something symbiotic is going on here that's mighty interesting.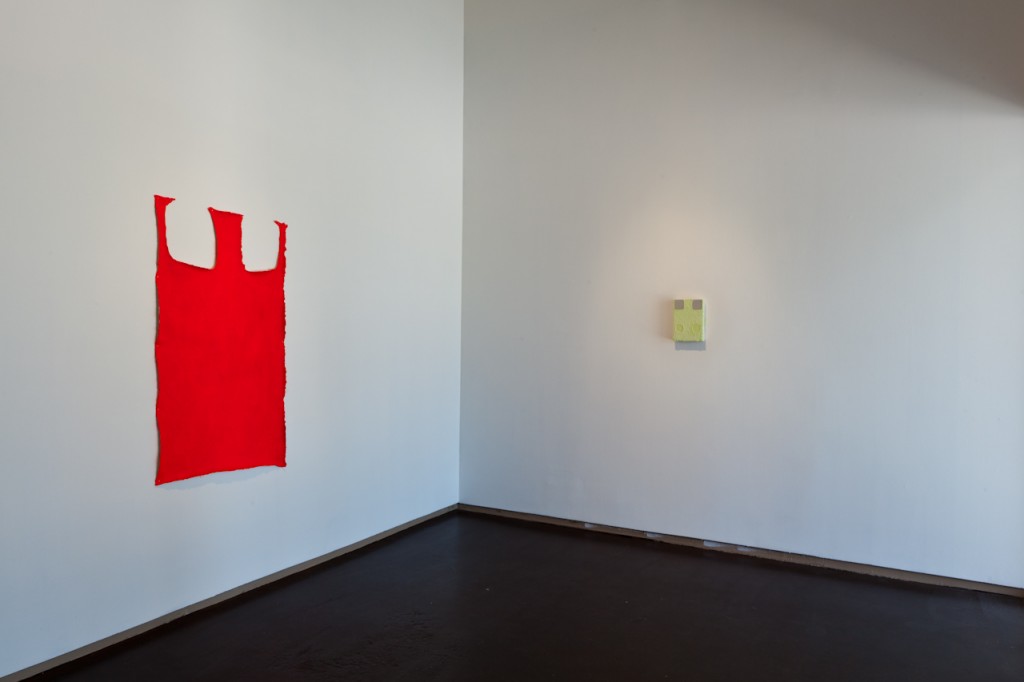 And, by way of a segue into what may prove new terrain for Slater, as young artists must continually push foward, he and Walker have included a larger painting (49" x 28") in this show, called Howl — an unstretched canvas coated in a Play-Doh orange color and nailed directly to the wall. (Thanks, Lizzy Wetzel, via Facebook, for that apt analogy. Did I mention that Slater's a wiz at social media?) In this painting, Slater has cut out the teeth shapes at the top of the canvas, revealing the white gallery wall behind. With its saturated color and rough edges, the piece achieves the vigor and intensity of the smaller paintings while anticipating a step in a very different direction. The change in scale here with Howl references the body, feeling more like a super hero cape or a cartoon shroud than the fragrant, plastic world of candy bars, taffy and other wrapped delights that the smaller work can conjure. It's good stuff, maybe not pulling out so many untapped, saccharine desires as the small work, but it's an interesting foray into boldness-as-bigness for Slater, apart from all the other grand-scaled things happening for this promising whippersnapper.
images by Kevin Todora for Marty Walker Gallery