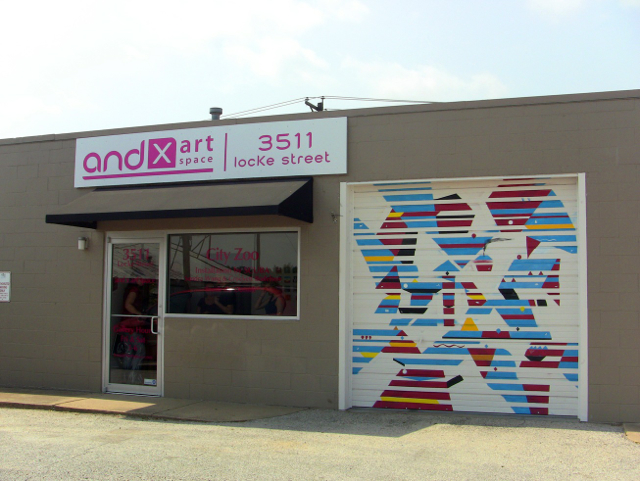 Featuring seven artists' work in two galleries, the exhibition City Zoo marks the debut of Brand 10's new space—And X. Conveniently located on the I-30 service road, And X's mission is to showcase large-scale sculptural and video installations, as well as host collaborative or collective artist groups. Artists will be invited to spend a few weeks creating work for the space.
City Zoo addresses animal and human relationships. In the history of zoos, wild animals were taken out of their natural habitats, confined in cages and displayed for humans' entertainment. Animals typically did not fare well under these conditions. While contemporary zoos now focus on animal conservation, education and preservation, the idea of man's dominion over animals is still prevalent today. Each of the artists in City Zoo examines the notion of power between humans and animals.
Clayton Hurt's ceramic sculptures Traveling Circus and Animal Sundae both speak to how animals are served up for public consumption. In Traveling Circus, small clay animals resembling chess pieces sit inside an egg foam container, ready to be shipped to their next gig.
Frances Bagley's sculpture and video work suggests confinement. In Fury, a large photographic print of a bronze horse appears trapped in a wooden structure. Small monitors rupture the canvas with videos of moving horse eyeballs. As we stare at the horse, the horse stares back but with multiple eyes. The effect is unsettling.
In Victor Romão and Tanya Eakins Spolan's works on paper, there is a shift in power dynamics. Romao's detailed ink drawings depict animal/human hybrid creatures. Spolan's paintings show animals in control of the world, waging war and wreaking destruction. The candy-colored palette is at odds with titles like Mission Accomplished and Progress.
My favorite works in the Brand 10 space are Susi Brister's large-scale color photographs of fabric pieces posed in natural environments to resemble exotic animals. Spotted Seal in Snow and Crystal Studded Shag in Dunes reminds me of the early menageries (pre-cursors to zoos), where royalty and aristocrats tried to one-up each other with their collections. Besides the absurdist humor, the photographs are beautifully printed.
The real exhibition highlight is the installation at And X by artist duo SCUBA. It's a must-see. I gasped audibly when I saw it. The work is an architectural city in paper suspended from the gallery ceiling. Created with vellum and white mark-making materials, the drawings only become visible when the lights are turned off. Internally illuminated with changing colored LED lights, the effect is mesmerizing. The viewer can walk around and through the structure, engaging with the work from a variety of levels. Upon closer inspection, the "city" houses various animals such as fish and coyotes, that co-exist outside of their natural habitats.
A dark humor permeates all the work. City Zoo presents a world where the animals might rebel and take control. The exhibit was well curated, showing a diversity of well executed work.
City Zoo
Brand 10 Art Space
And X Art Space
Ft. Worth
Through June 30, 2012
_________________
Multi-media artist Colette Copeland recently relocated to Dallas from Philadelphia. She writes for Afterimage—Journal of Media Arts and Cultural Criticism and Ceramics: Art and Perception Magazine. Her work can be found at www.colettecopeland.com.