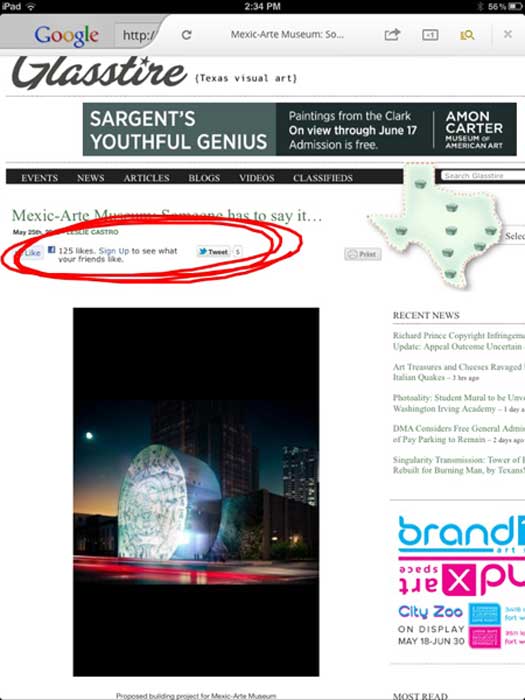 I talk about Mexic-Arte Museum a lot and I always have.  I have a long history with the institution, and I will say again that I want them to succeed and always have, and this is part of the reason I have been so vocal about their decisions.  I will also say that nothing I wrote in my previous post isn't anything I haven't said before.  However, in recent months my conversations with people have struck a nerve with me.  More often than not I'm told that the museum, "just isn't on their radar," or that they simply, "don't pay attention because the institution isn't relevant."  Judging from the level of response to my criticisms of the Mexic-Arte, people are paying attention to the museum and  are  invested in it's future. Somehow the community seems to be on the same page without even talking about it.
In addition to the posted comments, I've received an number of personal messages about the museum. They have raised additional concerns like about the functionality of the building itself. People have agreed that they don't identify with the museum and its mission and are concerned that the museum tries to represent too much within its scope of being the Mexican/Mexican-American/Latino visual arts center of Austin, and in the end misses the mark so much that it simply isolates its audience.  People have told me that they want to be challenged at Mexic-Arte, that the institution's historical exhibitions have been great, but they are repeated over, and over, and over…ultimately the only exhibition of note that is all inclusive, reaches a broad public, and is groundbreaking is the annual Young Latino Artists exhibition.  No one has discredited the work and vision of the institution, but everyone wants to see it become a place that is relevant, groundbreaking and inspirational for the community.  It's really time that the institution strengthen its focus, not complicate it more with a confusing building.
It's a sad day when an institution has to be criticized so harshly.  But clearly the criticism struck a chord with a larger public similarly frustrated with the institution.
Personally, I want transparency from Mexic-Arte.  I want them to recognize which cultures they are teaching about: Mexican/Mexican-American/Latino isn't exactly specific.  I want them to stop pushing these all-encompassing and tokenistic views of "culture," and I want them to recognize that things are not as black and white, cut and dry, or homogenous as they make it out to be.  I want them to invest in exhibition and education programs that are as broad and experimental.  I want them to collaborate with institutions both within Austin and outside of it, both cultural institutions and non-cultural institutions.  I want them to be dynamic and welcoming of all audiences, regardless of heritage or history.
I also want them to do their research.  There are numerous successful models that the museum could look to: Museo Arte Popular in Mexico City, The Craft and Folk Art Museum in Los Angeles, The National Museum of Mexican Art in Chicago.  These are three historical museums off the top of my head that shake things up in their programming, stay true to their community, and represent different facets of the culture they choose to exhibit.  Or look in your own backyard.  Most of us have learned in the past few years that making the physical entrance to the museum as obvious as possible is the first and most important step in "new building 101."  If people can't find the door they won't feel comfortable coming in.
On another note, I also have to address some concerns that arose after the post was published.  The original piece was not the product of an angry blogger.  The piece was sitting in my head for over a month as I spoke with a variety of people about Mexic-Arte and its decisions.  Those people include non-art people as well as those who are extremely art savvy.  I also approached Mexicans and non-Mexicans alike.  Additionally, I circulated my criticism to a select few before publishing it on Glasstire.  I also need to point out that Glasstire did not ask me for my opinion, or to write this piece.  It's all me.  The timing of its publication is also unfortunate.  I have to acknowledge the incredible accomplishment of the exhibition Thought Cloud being recognized by the Austin Critic's Table.  That's not an easy feat, the recognition is well deserved.
Now, that the conversation has been started.  Personally, I want to know more people's thoughts on how we can all move forward to help Mexic-Arte succeed.  Clearly a lot us feel invested in the future of the institution in some way.  Please share your thoughts, let's keep this conversation going…