This Thursday April 12th will be the last of 2012's Viewpoints lecture series at the University of Texas here in Austin. Invitees Sina Najafi and Jeffrey Kastner will give their final lecture in room 1.102 in the art building from 4-6pm.
Sina Najafi is editor-in-chief of Cabinet magazine and the editorial director of Cabinet Books and Jeffrey Kastner is a New York-based critic and journalist, and the senior editor of Cabinet magazine. The first lecture of the series given by Kastner back in February was about a feature he did for Cabinet magazine Issue 4 in 2001 entitled Animals on Trial. I've linked the original piece here and it's  a really interesting read so take a moment over breakfast or coffee.
In his honor and in the spirit of anthropomorphism I present Similar but Different #28:
Like Us.
Man is the only animal that blushes. Or needs to. —Mark Twain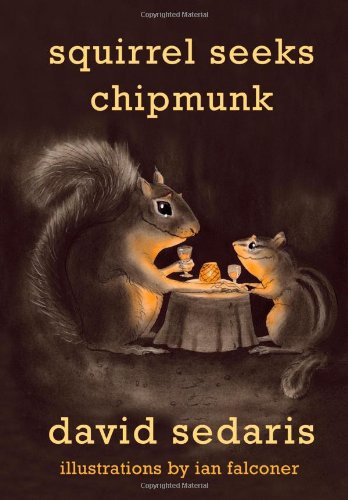 Excerpt from: Squirrel Seeks Chipmunk– The Cat and the Baboon
The cat had a party to attend, and went to the baboon to get herself groomed.
"What kind of party?" the baboon asked, and she massaged the cat's neck in order to relax her, the way she did with all her customers. "Hope it's not that harvest dance down on the riverbank. My sister went last year and said she'd never seen such rowdiness. Said a fight broke out between two possums, and one gal, the wife of one or the other, got pushed onto a stump and knocked out four teeth. And they were pretty ones too, none of this yellowness you find on most things that eat trash."
The cat shuddered. "No," she said. "This is just a little get-together, a few friends. That type of thing."
"Will there be food?" the baboon asked.
"Something," the cat sighed. "I just don't know what."
" 'Course it's hard," the baboon said. "Everybody eating different things. You got one who likes leaves and another who can't stand the sight of them. Folks have gotten so picky nowadays, I just lay out some peanuts and figure they either eat them or they don't." READ MORE…
* Ridiculously cute postscript: