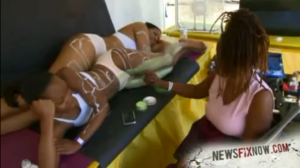 Some days it's juicy scuffles, museum intrigues, outlandish art projects, or even valuable information; some days Texas arts-related news is old boots and dogfish.
Culturemap Houston has a piece on iPad apps for cats, complete with nearly irresistable video of cats swiping at virtual fish in digital ponds,  KIAH-TV features body painter Vonetta Berry brushing a Houston skyline across two bikini-clad models at the Bayou City Art Festival in Houston's Memorial Park. Last Week the NY Times ran a feature on Texas' quirky museums, focusing on Barney Smith's Toilet Seat Art Museum in San Antonio.
http://www.youtube.com/watch?feature=player_embedded&v=vaif2uq_0Vc#!