In what can only be described as a coup, the massive ceramics collection of New York dealers Garth Clark and Mark del Vecchio was acquired by the MFAH five years ago. In 2009 there was a small "teaser" show to announce the acquisition, and now the bulk of the collection has been unveiled in a huge, exuberant show, titled "Shifting Paradigms in Contemporary Ceramics: The Garth Clark and Mark Del Vecchio Collection."
Clark and del Vecchio are connoisseurs, in the old fashioned, admirable sense of the word. These days, collections often run to bloodless investment portfolios or trophy-hunting accumulations of this season's must-have objects. That is not the case with this pair. Between them, they have authored or edited more than 40 books about ceramics. Not only do they understand the technical, historical and conceptual underpinnings of the works in their collection; they've also really known the artists they've patronized – they hung out with them, understood their work and their lives and were friendly (if not out-and-out friends) with them.
The exhibition itself is broken into three main sections: vessels, works that bridge between vessels and sculpture, and pure sculpture. The strongest work is in the first and the last rooms, with some outstanding pieces in between. The first room of vessels features some of the most recognizable names in the collection, including Ken Price, Ron Nagel, and Beatrice Wood. After winding through two vast galleries with dozens of works, the exhibition ends with a spectacular bang, in a room dedicated to the work of Aoki Katsuyo, whose extraordinary porcelain skull is on the cover of the catalog.
A visiting art critic commented that artists from the period who are known to have worked with clay, such as Billy Al Bengston or Linda Benglis, are not represented. I can only imagine that this is not an oversight on the part of Clark and del Vecchio; almost certainly, they were focusing their energies on the world of ceramics—understood, particularly at the time many of these objects were made, as something separate from the world of Art.
The show is very large; and although it seems churlish to ask that the collection be whittled down in exhibition, it does need it. Curator Cindi Strauss has found a way to give every piece or vignette some space, but still, some wonderful moments risk getting lost amid the sea of objects on display.
On the plus side, the show seems designed to avoid the monotonous "pedestal forest" effect. And, as often as not, works are displayed without the protection of a clear display case (a "bonnet," in museum parlance). Clark and del Vecchio talked about the visceral nature of clay as a material, how it reaches out to the viewer to be touched and used, and this is much easier to experience without an intervening sheet of Plexiglas.
For the non-connoisseur of ceramics, it's fun and enlightening to plunge into the sea of Clark and del Vecchio's collection. And because this show is so large, it warrants a couple of visits. I guarantee you will miss something good in your first pass. Here are a few highlights: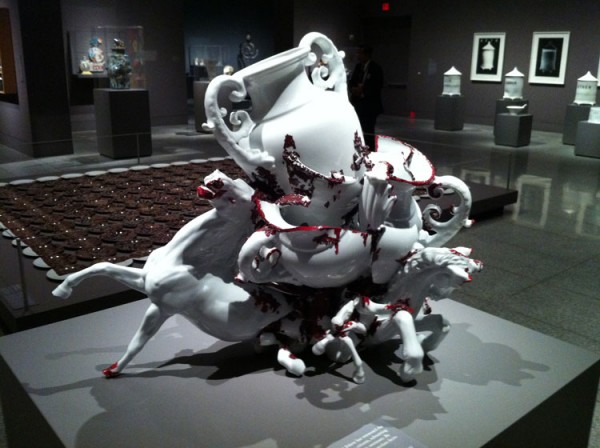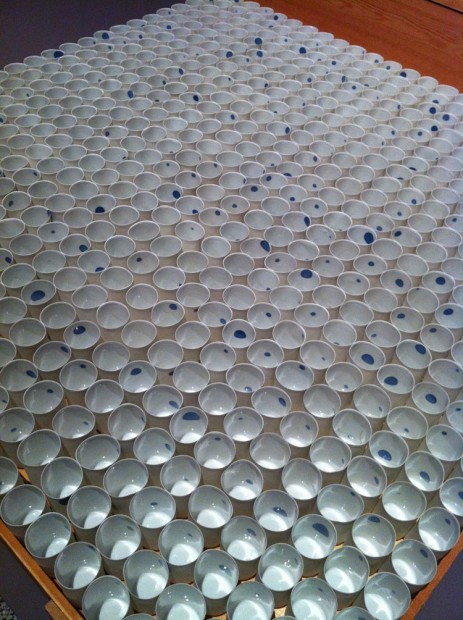 "Shifting Paradigms in Contemporary Ceramics: The Garth Clark and Mark Del Vecchio Collection" is on view at the MFAH March 4 – June 3, 2012.
Rainey Knudson is the founder and director of Glasstire.