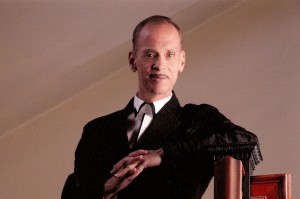 Are you the ultimate John Waters fan? Have you fantasized about rubbing shoulders with The Pope of Trash? If so, then thank your yucky stars because a very generous DiverseWorks supporter has donated two tickets (a $500 value) to This Filthy World: Filthier and Dirtier and given you a chance to claim them!
Post a short video on the DiverseWorks Facebook Fan Page that explains why YOU, of all schmucks, should win these prized tickets. Your video should not exceed 90 seconds and must meet Facebook decency standards. (Seriously, we encourage you to embrace symbolism, metaphor, innuendo, etc. but please don't force the FB fuzz to shut the contest down). Deadline for entries is March 12th at 10am . Winners will be selected by an esteemed jury of Waters scholars that day and announced on FB at 5pm.
The Grand Prize: 2 tickets to This Filthy World: Filthier and Dirtier performance and cocktail reception with John Waters; Second Prize: Autographed copy of This Dirty World DVD; Third Prize: Autographed copy of Role Models by John Waters.