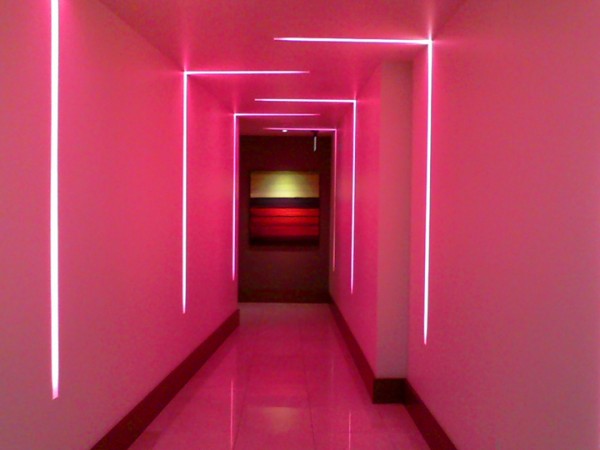 The College Art Association Conference was a great excuse to play in L.A. for a few days. Arriving at the swanky L.A. Marriott Live hotel, I immediately noticed the intersection between art, design and advertising. The bathroom lobby resembled a pink Dan Flavin installation. Huge Guess banners filled the lobby walls and columns. Guess videos played at strategic positions on the first two floors. Next to the rooftop pool a large ten+ story LED projected non-stop ads 24 hours/day. My favorite ad—a coke ad that cast a warm red glow over the water.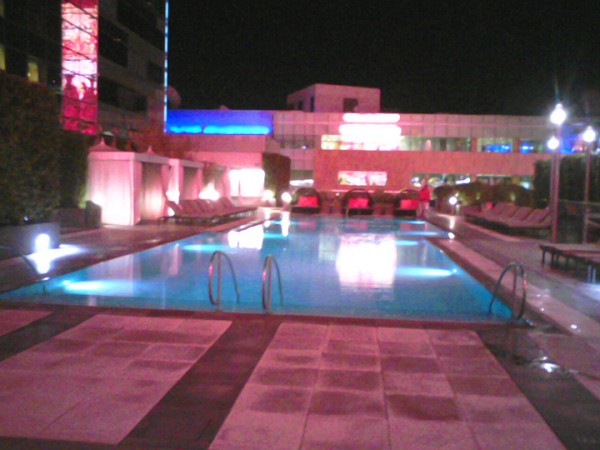 My first night I had dinner at Latin restaurant Rivera. The restaurant's clichéd advertising campaign was "Food and Drink Nourish the Body, While Art Nourishes the Soul." Jumping on the bandwagon of the epic "Pacific Standard Time: Art in L.A. 1945–1980" and its dozens of related exhibitions, the chef prepared a tasting menu inspired by some artists and artworks from the period. My friend and I joked that Ed Ruscha only warranted a chicken breast—a fire-roasted chicken breast, but still. We agreed that Ruscha would be very disappointed with such banal fare attached to his name. Artist Ron Cooper's work inspired a drink with mexcal, gin, yuzu tincture and cayenne pepper. The mixologist on staff boasted that he would create a custom cocktail based on a customer's personality. My dinner arrived on plate depicting the horse from Picasso's Guernica. The horse took up most of the plate with my food placed in the upper right corner.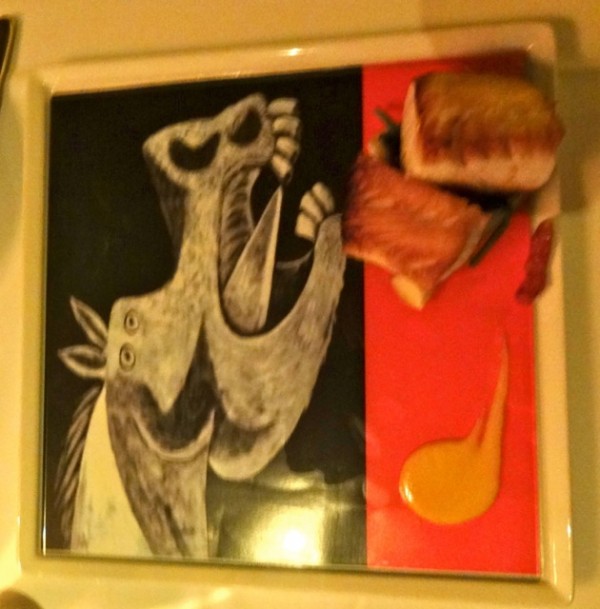 _________________
MOCA's Naked Hollywood: Weegee in Los Angeles was one of the best things I saw in L.A. Best known for his black and white tabloid photography, Weegee's most recent exhibition includes 200 photographs taken in Los Angeles. The title "Naked Hollywood" comes from the 1953 publication of the same name, a collaboration between Weegee and Mel Harris. I saw the International Center of Photography's 1998 retrospective entitled Weegee's World: Life, Death, and the Human Drama. My recollection of that show was the emphasis on Weegee's New York crime scene and people photographs. I didn't recall any surrealist or distortion work. What a surprise to experience a completely different side to Weegee's photography.
1947 was a pivotal year for Weegee.. He moved to Hollywood to work on the film version of Naked City, married Margaret Atwood (another surprise for me), and began experimenting with lenses and darkroom techniques to create his distortion series. The resulting Los Angeles images combine street photography and celebrity portraiture. They are simultaneously playful and critical.
It's no secret that Weegee was just as interested in cultivating a celebrity persona, as well as photographing the stars. I wonder if the naughtiness inherent in Weegee's distortions was about rupturing the iconic stature of his subjects or if he had a misogynist alter-ego. Either way, his distortions embody his signature dark humor, yet present a very unflattering side of his chosen models. The photographs mock the Hollywood star system, rupturing the image of celebrity icons such as Liz Taylor and Marilyn Monroe.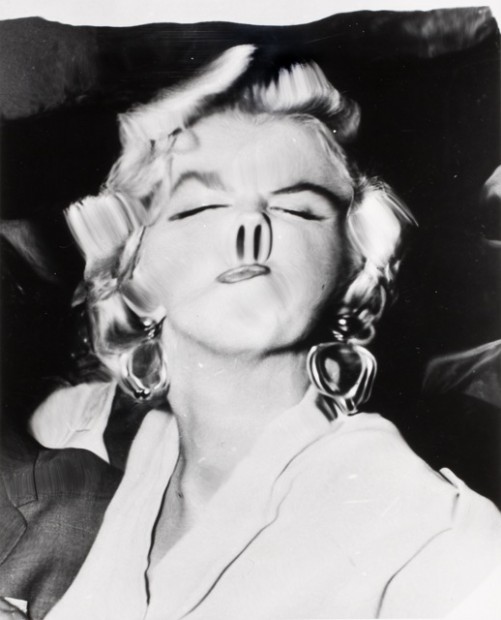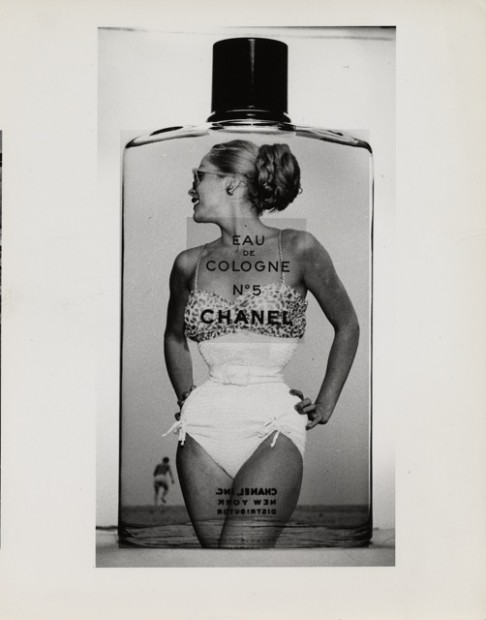 In Liz (1950), a young Liz Taylor is shown eating dinner. The distortions give the photograph connotations of an orgiastic, gluttonous feast. In Marilyn(1960) Weegee distorts the sex goddess' face to give her a pig nose. Weegee also photographed a lot of mannequins and store displays. One storefront image features women's underwear with the sign, "Extra Large Panties—Whatever your size…We can fit you." Weegee was adept at capturing the paradoxes in Hollywood. Some montaged images remind me of Hans Bellmer's doll sculptures.
Weegee's work disturbs viewers in the best possible way. He brings us into his unique vision, one that is darkly surreal, filled with fetishistic desire and sharp wit. We look. We laugh. We look again, then feel guilty about laughing. The feminist in me cringes a bit, but Weegee's work seduces me with its dark magic.
_________________
Multi-media artist Colette Copeland recently relocated to Dallas from Philadelphia. She writes for Afterimage—Journal of Media Arts and Cultural Criticism and Ceramics: Art and Perception Magazine. Her work can be found at www.colettecopeland.com.