Last December, before my visit to Crystal Bridges, I wrote about the challenges of being a museum funded by Wal-Mart money and located in Bentonville, Arkansas. I had interviewed the museum's director, Don Bacigalupi, and I was taken with his brand of populism — which did not equate inclusion with dumbing down content and pandering to the lowest common denominator. And, as a native Arkansan, I was looking forward to Crystal Bridges. Admittedly, the museum didn't have to do much to outdistance other Ozark-area attractions like Branson and the Precious Moments Chapel.
I assumed I'd like Crystal Bridges, but I wasn't prepared to be so impressed or to feel so enthusiastic about it. With all the hype about Wal-Mart as the source of  founder Alice Walton's wealth, I think some people initially expected some sort of "red state" patriotic museum of American art. And with its location in the Arkansas Ozarks, I think they also feared a certain conservative agenda might run through the collection. (It had crossed my mind as well.) That is far from the case, however. The museum's setting is gorgeous and it's acquired some impressive works, but it is Crystal Bridges' re-imagining of the broader story of American art that is especially impressive.
Attendance at Crystal Bridges during the trough between Christmas and New Year's was so heavy, the free museum was issuing timed tickets as a means of crowd control. But as someone in admissions told me over the phone, they weren't turning anyone away. That attitude of welcome, openness and accommodation really pervades the museum, from its architecture to its programming.
Crystal Bridges isn't about the ego-driven monument on a hill: the museum is modestly sited down in a valley; its low-slung colonnaded entrance curves along a circular driveway. Roxy Paine's stainless steel tree, Yield, is out front, bending against an imaginary wind. (I hadn't been that taken with it in photos, but in person it's stark, shimmering drama works surprisingly well against the surrounding woods.)  You walk around the entrance to take an elevator down into the museum itself. Before you do, there is a viewing platform that overlooks a portion of the museum's network of connecting buildings and spring-fed ponds.
The elevator opens into a courtyard and the entrance to the museum. Before I visited, I thought the curved walls of many of the buildings would be too gimmicky and obtrusive for an art museum. (The Frank Lloyd Wright Guggenheim is an iconic building but it's a crappy space in terms of showing art. And the walls in Crystal Bridges are enough of factor that the museum consulted the Guggenheim about curved-wall hanging strategies.) But the curves are gentle enough that they work well, for the most part. And in one section, long, rectilinear galleries are constructed within arcing glass walls.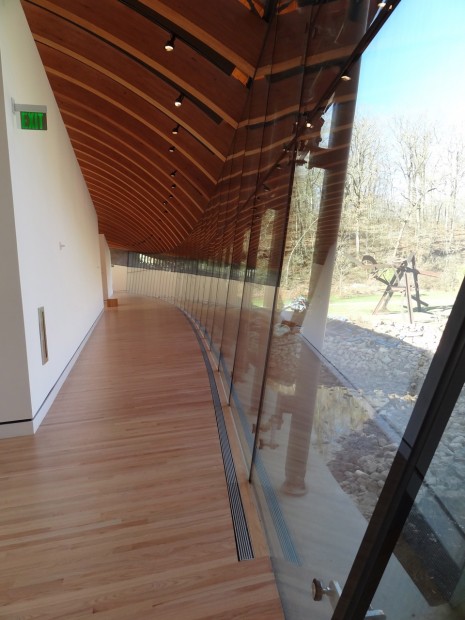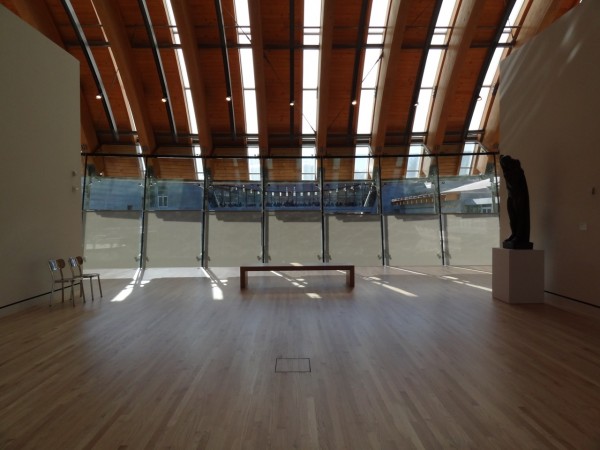 Unfortunately, the entrance to the first gallery (below) is one of the most awkward spaces, exacerbated by the placement of the freestanding exhibition walls. It feels like you walked in through the back door. But while a disappointment, it's not a tragedy. The works and their groupings are what make this section.
In this gallery, which includes works from the colonial period through the 19th century, Crystal Bridges is setting out to create a much richer and more multifaceted vision of early America than traditionally presented. The gallery opens with an amazing series of portraits by Gerardus Duyckinck. Instead of depicting the progeny of early American Puritans, the ca. 1735 portraits feature members of a Jewish New York family from the Colonial period.
Duyckinck's "naïve" paintings are a wonderful blend of flat awkwardness with moments of elegance. And one of his subjects, Abigaill Levy Franks, is particularly historically important for the letters she left behind and their fascinating portrait of her life, her family and the period and place in which she lived.
In this same gallery, a Gilbert Stuart portrait of George Washington is hung next to Charles Bird King's portrait of Crouching Eagle, a Native American chief. King's painting is a sensitive work that feels like a portrait of a person rather than an illustration of some exotic character. Placing these to portraits adjacent to each other positions them as fellow leaders of separate peoples occupying the same continent. It may be an obvious historical point, but it's one that often becomes lost in popular perceptions of American history.
Further fleshing out the story of America are 19th century works that include African Americans without glossing over their plight. Richard Caton Woodville's 1848 War News from Mexico clearly presents the social hierarchy and conditions of the day. Well-dressed, top-hatted white men occupy a porch and exclaim over the news, a lone woman leans out a window, straining to hear. Meanwhile, a black man in worn clothes sits on the bottom step and a child in a tattered shift stands barefoot next to him. There are numerous other moments of inclusion and acknowledgement in these galleries. There is a mid-19th century work attributed to the female artist Susan Catherine Moore, one of the rare itinerant female painters of the period.  In George W. Pettit's intriguing 1865 painting, Union Refugees, a black man accompanies fleeing white adults and children. Walking next to an elderly man at the head of the party, he visually reads as an member of the group rather than as a servant or a slave. But we don't know the true relationship, or if they are fleeing to the North or to the South.
The main gap I see in Crystal Bridges story of America is a lack of Hispanic culture (unless I missed something big).  Some Latino artists are represented in the contemporary works, which I'll address in Part III. But there is a story of America to be told that icludes the Spanish-speaking regions which joined the union in the 19th century. I suppose it's not an historical American demographic people are particularly aware of outside of Texas and the Southwest, but it's a rich and important history to include.
But, so far, so good.
Read Part I here: Crystal Bridges: Don Bacigalupi, Art, Arkansas, Populism and Wal Mart.
Part III – upcoming – Contemporary and modern at Crystal Bridges, the surprisingly high number of women artists in the collection, outdoor sculpture with too many animals and much, much, more…
_________
Glasstire editor Kelly Klaasmeyer is an artist and art writer who grew up in Conway, Arkansas, a city surrounded by Toad Suck, Pickles Gap and Skunk Hollow