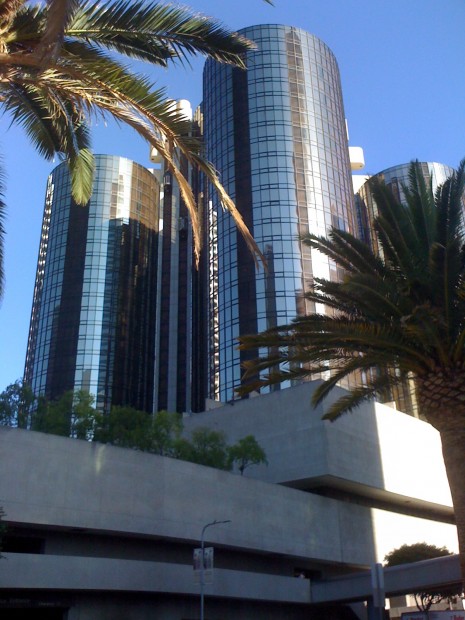 I flew down to LA last week in honor of CAA, The College Art Association. While the majority of my peers went to panels, school reunions, and were either interviewers or interviewees at the conference; I spent my time being driven, palling around with friends, eating way too much:
And seeing some great art. Here are my cliff notes on the galleries…
The GALLERIES:
BRIAN BRESS at Cherry and Martin
Under Performing
I was lucky to have just caught this show, which closed on February 25th. I did not know the artist's work and walking into Cherry and Martin ended up being one of my favorite moments from the trip.
"Uncertainty on the part of both viewer and artist is a core element of Bress's work", according to the press release. It is the perfect combination of uncertainty, humor and intelligence and I hope I get to see more of his work. The video Creative Ideas for Every Season is in the front room and 8 single chanel video's are in the back. Filled with references to contemporary art and it's making I recognized characters that suggested Paul McCarthy, Barry Mcgee, George Condo and Nick Cave, these are just a few of the ones I caught,  as they and their incarnations moved through the surreal landscapes and picture frames they inhabited. Bress is my newest art crush.
SAMANTHA FIELDS at Western Project
Be Careful What You Wish For: New Paintings and Works on Paper
February 18 – March 17, 2012
Pulled from "over five years of archives, of 'failed' images, those where the camera did not pick up what she intended due to heat, water, or movement, and those where she is in the scene rather than reporting from afar." The paintings are amazing. The paintings are large in scale but also grand in ephemeral wonder. While I've see her work in reproductions before, I cannot stress seeing them in person. Created using serendipity as a means of production rather than using a systematic investigation, they are open and wistful. They made me squint pointlessly trying to understand my place in the moment.
KRISTEN MORGIN at Marc Selwyn
Snow White in Evening Wear and Other Works
I've been a huge fan of Kristen Morgin since I was a student and she was my TA at Alfred University back in 1996. Over the years I've seen the work evolve and grow in scale, complexity and ambition.
The work in this exhibition is the best yet; even the pushpins are unfired clay. Vignettes much smaller than the low-riders she's become known for, this work is another type of anthology. Moments and memories of a collective past seen through the filter of an American childhood. Filled with longing gained only by experience and then animated by a hopeful sense of play. It will only be up for a few more days. It ends on March 10th so if you're in the city don't miss it. If you are not then David Pagel wrote a nice review for the L.A. Times or you can watch this great video on Morgin by Kadiview.
ABIGAL REYNOLDS at Ambach & Rice
A Common Treasury
British artist Abigail Reynolds' exhibitions title is derived from The True Levellers Standard Advanced, a seventeenth century manifesto penned by a faction of English Protestant agrarian collectivists, they were early proponents of social and environmental activism. I realized I'd seen and liked her work before but this recent installation seemed more layered and not in a decorative way. I viewed all the works as relationships that were linked together in the same way Reynold's links photography to the past. While fixed and static as images and objects, much of the work navigated the present tense. Linking nostalgia and idealism through image and text like so many contemporary photographer/artists.  An example might be some of the members of Austin's Lakes Were Rivers. Landscape, architecture  utopian communities and design are conjured, longed for and made a new within this striking exhibition.
Part 2: Museums and Mike Kelley, coming soon…