I've loved Mona Hatoum's work since I first saw it in 1993 at the Serpentine Gallery in Kensington Gardens. The exhibition was called Four Rooms and Hatoum was one of four artists, but her's is the only piece I remember. It was a signal encounter with contemporary art.
I recall walking into a confined space that contained rows of heavy wire storage lockers. They were stacked and grouped to create a narrow corridor between them, akin to a cell block. In their midst was a single incandescent bulb, suspended from cord. It emitted harsh light that multiplied the bars of the metal lockers by casting their shadows on the walls, floor and ceiling, and on the figures of people in the gallery.
The bulb was slowly raised and lowered by a pulley. As it moved, the shadows moved. In my gut I felt the tension inspired by those forms and shadows. I sat down on the floor, overwhelmed by the chance to be there, and immerse myself in the dynamics and melancholy of the installation.
I remembered that encounter most recently when a new book on Hatoum arrived in the mail. It's small and easy to handle, and beautifully made. It was produced by Hatje Cantz, a Stuttgart-based publisher with a history of lovingly designed and printed books. At first, I just savored the binding, the quality of the paper that the pages were printed on, and the wonderfully paced dialogue between text and image.
It focuses on Hatoum's work in the Goetz Collection and one of the works featured is Hatoum's Short Space (1992). This consists of nine metal bed springs–the kind made for inexpensive beds and cots–hanging in groups of three from metals poles that, in turn, are suspended via pulleys from the gallery ceiling. The English translation of Rainald Schumacher's essay told me that the groups of bedsprings slowly move up and down in counterpoint to one another. A sister work, of sorts, to Hatoum's installation at the Serpentine.
The book communicates the strength of Hatoum's oeuvre, which I think stems from her generally poetic engagement with the human body and with bodily experience. But it also can be surprising, even literally, funny, as in Van Gogh's Back. This is her 1995 photograph of a man's hirsute back, with hair whorled around like the passages of light in Starry Night. Similar whorls, in a different context, are seen in Undercurrent (red).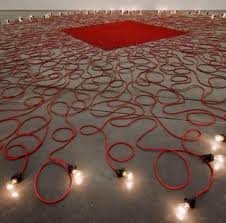 Mona Hatoum, 'Undercurrent (red)' (2008)
The book also includes a short essay by Ingvild Goetz, which provides insights into how the collector perceives Hatoum's work and how it is so important to this very personal collection. I was impressed because Goetz could speak about Hatoum's art in metaphorical terms. The sense is she collects it because it resonates with her on a deeply personal level–rare among collectors of any era, but especially telling now days.