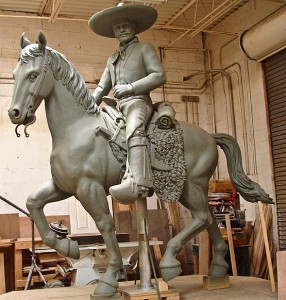 Echoing, in diluted form, the debate over the appropriateness of Luis Jimenez' famous pistol-waving Vaquero, copies of which are sited on Houston's Northside, and at the Crystal Bridges Museum in Arkansas, a monumental bronze Vaquero de Fort Worth has been given the go-ahead by a vote of city council, after a hiccup over the cowman's gunbelt.
The gun was added by artists David Newton and Tomas Bustos despite the fact that the Fort Worth Art Commission approved a gun-less design, and the Vaqero Core Committee, representing the project's major funders, explicitly opposed the gunbelt as historically inaccurate, a hollywood stereotype.
Repeated objections to the gun at various phases of the project were ignored until the piece had already been cast in bronze; the city refused to accept it.  The artists refused to make the by-then expensive alteration, saying that removing the gunbelt it would be a mutilation of their piece. Tuesday, Fort Worth City Council gave in, allowing the piece to be installed, hardware and all, at Vaquero Plaza on North Main Street and Central and Ellis avenues in May or June.