Hello, and thank you for joining me for this, the inaugural blog post for the Chupacabrona Tour.
(For some background info on the tour's mission and plans, you can read this post if you want — in recap, I wanted to travel around South and West Texas and document art making in places with almost no arts media, so I raised the money, and now that's what I'm doing — "travel diary" posts will appear on Glasstire, and works of writing and multimedia in other publications, stay tuned!).
My funding from my United States Artists project came through in the third week of January. I bought myself a computer, for the first time in my life (I'm 40).
I bought editing software —Final Cut Pro, which I've so far maybe mastered 10% of.
I upgraded my iPhone, which has a bigger (still not great, but bigger) camera. On my budget and on my own, it's more important to me to travel light, have the damn camera on-hand and easily usable, than to have a pro camera. I'm working really hard to get good image quality, though. I bought a muffuggin microphone even. Hopefully the time will come wherein my videos warrant, and my budget will allow, a video camera.
And as soon as I could, I hit the road.
Which brings me to Eisenstein in Corpus Christi.
****************************************************************************************************************************************************************************************
Back this summer, a film by Robert Gonzales that I edited and co-wrote called "I Heart SA" made it into the Texas Monthly "Where I'm From" film contest at the Austin Film Festival. As part of the whole shebang, we got to go to the festival in October, and hang out a little bit with the other "Where I'm From" filmmakers, which included Mariella Sonam Perez and her husband, Rob (I go into this more in the other post I linked to.) Rob's a professional shooter/editor, you can check out his production company, Zerep, here.
Mariella Sonam Perez made "Going to Grandma's," which I loved.
Over the course of the festival, Mariella and I hit it off — we talked movies and feminism and, well, grandmas, and she told me about making films while raising four children. Apparently, during Mariella and Rob's trip to Austin, their oldest child convinced their youngest that "Mama's dead," so she had to make an emergency reassuring phone call home between panel discussions. Anyway, we talked about the importance of networking, opined about the films and discussions we were seeing, and together met Elizabeth Avellan, another hardworking film mom. Avellan gave a truly inspiring talk / Q&A, and Mariella and I geeked out and waited in line to say hi. It was amazing to watch Avellan talk to Mariella about the ADVANTAGES of making films while raising kids, not something you often hear. Avellan's kids grow up on-set, where their education's been conflated with family time and a sense of purpose; Mariella and Rob's kids co-star in "Going to Grandma's," and in many of their other projects. I'm not a mom, but I'm at least barely smart enough to get that women with kids and art careers can really use encouragement from other women with kids and art careers.
Anyway — Mariella also told me all about South Texas Underground Film, an affiliation of filmmakers of all kinds from all over South Texas, which she and Rob co-founded. STUF (<- link to their Facebook page) is "an official Texas non-profit organization for filmmakers and those who enjoy the art of film, run entirely by filmmakers (Directors, Producers, Screenwriters and Editors). Our goal is to teach the art of filmmaking to the community and to exhibit the work of filmmakers with underground and incredibly independent visions, especially those with the DIY spirit."
STUF puts on a yearly film festival which includes all genres, particularly highlights LGBT and woman-made films (check out call for entries here). STUF maintains a YouTube Channel, has a blog on its site full of calls for entries and news about South Texas filmmakers and festivals and events, and issues regular challenges to area filmmakers; to wit, make a film in 24 hours, make a music video, etc. This ongoing series of challenges, started by Mariella and by Rob, a bona-fide cineaste, is called "DIY Film School," and it's a fantastic idea that I'm deeply in love with.
STUF issues a challenge (generally, one per season) and a deadline, and then holds a screening of the entries. At the screenings, prizes are awarded, and people network, give each other feedback and advice, and often wind up in each other's next film. In short, STUF provides the kind of social interaction, camaraderie, project structure, motivation that film school should, but on no budget, and with full-on inclusivity, cojones as well as serious research and ongoing experimentation. Mariella invited me to come stay with the fam in Corpus Christi (where STUF is headquartered), which I fully intend to do, and get to know the scene.
In the meantime, I decided to sneak down unannounced on January 18, because the ambition and pluck of their DIY Film School Winter Challenge fascinated the hell out of me: A Tribute to Sergei Eisenstein.
Eisenstein, as I bet you already know, most famously directed The Battleship Potemkin.
Made in 1925, Potemkin is such a chestnut that for many, as Roger Ebert wrote in 1998, "it is impossible to come to it with a fresh eye…its famous massacre on the Odessa Steps has been quoted so many times in other films (notably in "The Untouchables") that it's likely many viewers will have seen the parody before they see the original."
Here's the trailer, to give you some idea, if you haven't seen the movie.
You can watch the entire film, which is in the public domain, here and elsewhere online.
Eisenstein, Soviet filmdom's early star proponent, developed a dialectic not just of subject matter, but of editing itself. Eisenstein's Soviet Montage  system contrasted with traditional narrative editing already in use at that time, in which the connection of one scene to another unfolds in a kind of rhythmic flow, a novelistic segue of theme and plot and visual information, which leads the audience through the story. A scene of two people kissing, a shot of a church, then a scene of the couple walking a baby carriage. You get what I mean.
Eisenstein's Soviet Montage, on the other hand, relies on stark juxtaposition of image after image, which will build up response in the viewer via a cumulative series of associative messages. Soviet Montage, within the narrative of Potemkin and within the viewer, leads to inexorable and actionable revolution, or is supposed to. In the Odessa Staircase sequence
NOTE: POST EDITED TO ADD ODESSA STEPS SEQUENCE, WITH ORIGINAL NEW SCORE BY ALI BERKOK
http://www.youtube.com/watch?v=i95xhy7X_ao
… you see people brutalized by an oncoming phalanx of Czarist soldiers appears as a filmic collage, in which even the lions are astounded. The through-lines are deliberately disjointed; you rarely see somebody shoot a gun and hit somebody; you observe the oncoming armed men, see old women falling, the baby carriage rolling, the lions, all acting in a multi-perspective rather than linear fashion. Your outrage grows.
The Marxist cycle, remember, was described as a form of worldwide human evolution, in which exploitation and alienation of the proletariat would inevitably give rise to violent overthrow of regimes and public overtaking of the means of production. Marxism was a social theory as well as a proscriptive approach to politics. By recapitulating the Marxist cycle of history through Soviet Montage (a series of techniques about which you can read a lot more here), Eisenstein's The Battleship Potemkin achieves a sort of "ontogeny recapitulates phylogeny" dynamic.
A viewer wasn't meant to emerge from The Battleship Potemkin having absorbed a novelistic interlude, but honed to kick ass. Whether or not Soviet Montage "works" is still up for debate, but as Ebert writes, "The film once had such power that it was banned in many nations, including the Soviet Union. Governments actually believed it could incite audiences to action." (Emphasis mine).
The Soviet Montage theory, Eisenstein's work, and the propaganda of the early USSR are favorite nerdy topics of mine. I'm in no way an expert or an authority, but I'm hooked on the visual conviction, the density of the human experience, the tragic failure of Communism falling into Stalinism.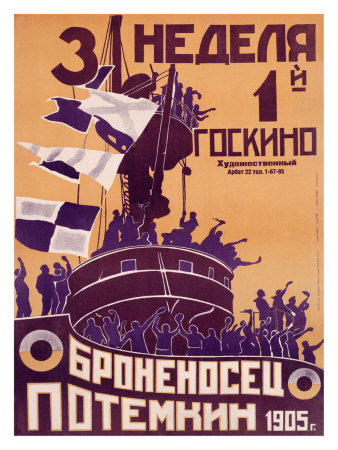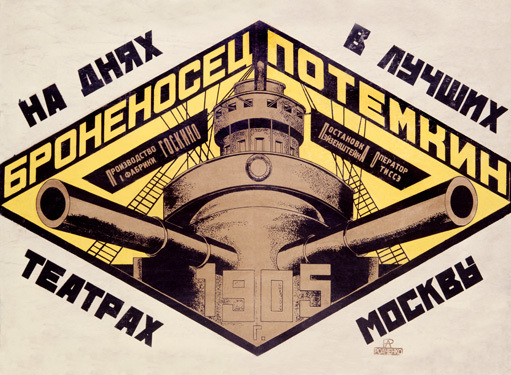 I've seen The Battleship Potemkin several times, always in an academic setting, usually freeze-framed and talked over and micro-analyzed and related to later developments in editing technique, or social history, etc.
To watch it in a bar called — no shit —Revolution in Corpus Christi, TX with a bunch of experimental filmmakers who've studied Soviet Montage and, in a few cases, actually made shorts inspired by it, was life-changing. Not in a Marxist revolution way, mind you, but in a more democratic and undogmatized power-to-the-people way. The shorts made in response to this challenge weren't specifically political — and didn't have to be. To learn and interact with filmic techniques along a broad spectrum and through film history is revolution enough. Rob Perez may do French New Wave for the next DIY Film School experiment, but isn't sure. I can't wait to see what it is.
I got to the bar just as the film was starting. I surprised Mariella, who was watching keenly and noting the different Soviet Montage techniques – rhythmic, tonal, over tonal. I sat with her and a friend of hers, who during the Odessa steps sequence gasped and said to me, "as a mother, that's awful to watch." Nobody in the room was blasé about this film. The crowd was small — Rob pointed out that they'd set deadline right after the holidays, and Mariella seemed apologetic that the turnout wan't bigger, but I'm not sure a DIY film school challenge assignment based on Eisenstein's Soviet Montage technique would garner a full house anywhere, much less Corpus. The mere fact that STUF got this happening in Corpus Christi floored me. But then to watch it, the whole thing, in the dark alongside truly interested eyes, was Eisenstein made visceral.
After the Potemkin screening, STUF filmmakers screened their Eisenstein-inspired shorts.
Here's one, made by Corpus-based photographer/videographer Micah DeBenedetto, whose blog you can read here about the making of the film, and about DeBenedetto's work with STUF and his work in general. Nifty. He explains how this short relates to the challenge.
I liked the other short, too, by Norman Navarro, which was part of what I gather is an ongoing web series featuring, among other characters, a chihuahua. In his film, a chihuahua traversing a parking lot in search for her friend became an Eisensteinian satire. I keep trying to get Norman Navarro to post it online somewhere, and when he does, I'll add it to this post.
After the short screenings of the Eisenstein-related shorts, other STUF filmmakers screened their previous DIY Film School projects. I saw a detective genre short, a horror short made in 24 hours, and a gorgeous stylized ranchera video made by the very accomplished Rob Perez. I talked to one of the bar's owners, who himself is working on documentary about a community-supported orphanage outside Cuernavaca. Local hip-hop musicians in attendance talked to me about the frustrations of getting heard outside CC, and upcoming collaborations with San Antonio artists. I looked at paintings on Revolution's walls, all by local artists. All in all, it was breathtaking. To say I never would've believed such a shindig would go down in Corpus just shows how little I know, and how much more work I have to do.
I'll be re-visiting Corpus to stay with the Perezes, meet more filmmakers and artists, and to take in more of the town. But this was a great and inspiring first landing.
My forthcoming post will be about a journey through the Rio Grande Valley the wild nudes of McAllen.
Hope you'll follow me there.
EXTRA-SPECIAL P.S.: Here is a short film I've put together that makes very little use of Eisenstein's Soviet Montage techniques but does express, in part, how very grateful I am to everybody who's supported this fledgling tour by donating money, offering pep talks and contact info and web space and Facebook re-postings. Some are friends, family, colleagues, readers, some of these people I know not at all, but I'm so grateful you wanted to help out. I'm planning to travel, learn, write, and record a lot over the next 6-7 months. I hope you enjoy it.  Thank you so much.