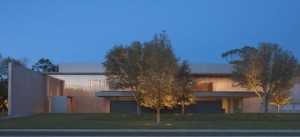 Citing an more interconnected world, and the growing role of Asia in international affairs and commerce, the Asia Society, founded in 1956 by John D. Rockefeller to explain Asia to Americans, has recast itself as a global pan-asian business and culture facilitator, and is building new $50 million offices in Houston and Hong Kong. The building in Houston is designed by architect Yoshio Taniguchi, is scheduled to open this spring and will house an art galleries, lecture hall, meeting spaces and offices, as well as displaying selections from the Society's collection of Traditional Asian art.
Asia Society Texas Center will open its new headquarters in Houston's Museum District with a four-day celebration on April 12-15, 2012, with former President George H.W. Bush and former First Lady Barbara Bush, former Secretary of State James A. Baker III and Susan Baker, U.S. Senator Jay Rockefeller and Sharon Rockefeller, and former Iranian Ambassador to the United States Hushang Ansary & Shahla Ansary in attendance. ASTC executive director Martha Blackwelder said, "our center will be the place where Asia meets Houston and together we prepare for a shared future." while Vishakha N. Desai, president of the society in New york, told NY Times Blogger Robin Pogrebin that "This is a century when America will be a very important player, but not the player. There is a different balance of power in the world."
Artist Mel Chin is installing a giant wooden spider in the center's North Gallery. Korean sculptor Lee Ufan will visit in February to install a piece in the second-floor Sculpture Garden.