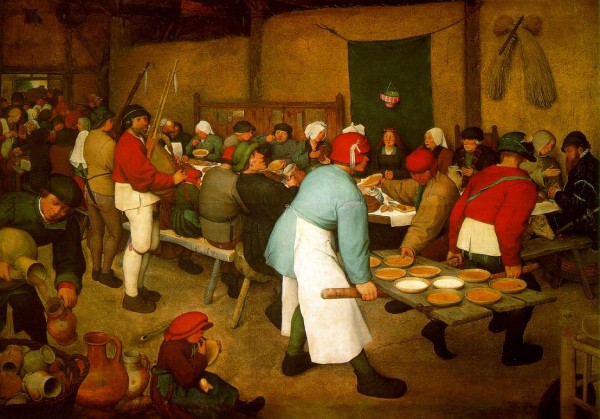 My husband and I were invited to CADD's (Contemporary Art Dealers of Dallas)  latest event this weekend — The CADD Mystery Dinner: Eat Your Art Out, and I have to say, I was a little trepidatious about how the evening would go. The premise of the evening was to connect people with a mutual interest in contemporary art, and by extension Dallas' contemporary art galleries, over a shared meal. For the event, people bought tickets to a dinner with an undisclosed location and host; two days before the dinner, ticket holders received an email telling them where they would meet for the meal; Saturday night, ticket holders showed up at said location to mingle and eat with a small group of almost total strangers for a few hours before heading to the McKinney Avenue Contemporary for dessert, coffee, more wine, and live music.
I'll be honest when I say that the plan sounded a little hokey to me. But I'm not kidding when I say that the evening proved to be one of the most fun we've had in a while, and totally refreshing besides.
Just two nights prior to the CADD dinner, we'd been sitting in an auditorium at the DMA listening to the eminent leaders of our art institutions talk about the state of Dallas' current art scene, which left us, and others, feeling a little fatigued about the cultural work we had cut out for ourselves — suturing the gulf between the patrons (aka collectors) and local artists and galleries; instigating alternative art rabble-rousing; boostering talent that needs it; crushing the opposition. I was feeling ready to be true to my heritage, make like a gypsy, and get the hell out of here.
So when we pulled up to artist Rusty Scruby's studio gate in the Cedars Saturday night and were told to park our Mazda minivan next to a white Mercedes, I thought we were in for more of the same emotional hangover-inducing cultural warfare (which is an incredibly indulgent way to describe what we do, but allow me, because it can feel like that). But, when we turned the corner around a big pick-up truck in the back of the studio, whom should we find — decked out in an apron and bending over a Weber grill, flipping chicken tenders — but the lovely art dealer, Cris Worley. My encounters with Cris had, heretofore, been as guests in her galleries — Pan American Art Projects first, and then her own space, Cris Worley Fine Arts — where she elegantly would work the room, all 6 feet of her. (I thought she was a Russian art czarina before I knew better). Now here she was holding her long hair back, over a really hot open fire in a parking lot, grilling poultry for an art party meal.
My feeling about how the evening could go changed in an instant.
The night was odd, I'll admit that; but odd in the way that breaks from the normal order of things and so surprises you. We met a group of random, regular folks — people interested in art, maybe just new to collecting, or seeking a date night that helped them meet new people and open new horizons. We met a Mary Kay marketing exec. and her charming and thoughtful husband who runs his own business. They were new to Dallas, and clearly eager to crack the city open a little. We met a Dallas International Film Festival fundraiser who talked shop with my better half about the festival. We got to know our hosts, the artist Rusty Scruby and his partner Hampton Burwick, while touring their home and studio, hearing stories about their possessions — wonderful pottery and art — and  by eating off their plates. Strangers made introductions while Cris Worley made spinach salad and pulled a dish of her mother's mashed potatoes from the oven. We sat down, passed bread and wine and salt and pepper, and got to know each other at a long table stretched across the living room.
Then, after we'd all had seconds of Cris' delicious food and multiple glasses of wine, Cris told the group about CADD — what it does, what it hopes to do as a collective of like-minded dealers, and how they hope to connect with more of Dallas' art-interested. Certainly, sitting there at the table, I saw the  group suddenly feel part of something that before that evening they hadn't. A great deal of the mystery of art galleries and their off-putting aura was erased that night.
After we ate, we headed over to the MAC where we chatted with Barry Whistler before he stepped on stage to play with his band, which was the entertainment for the evening. We ate brownies and milled around the art in the galleries, and ogled all the other folks that trickled in from the various other hosting parties (there were six dinner posts for the evening, each hosted by a different gallery). It was a wide swath of folks — from the well-heeled to hipsters — and everyone was having an incredible time.
When people started dancing, and I looked back at Barry Whistler — one of Dallas' most respected gallerists of twenty-five years — drumming away on the stage, I wondered where I was for a moment. It was like an odd dream of Dallas where suddenly all of the pretenses about money and status and culture and success were banished. What was left was something far more essential — delight.  
I won't think about it too much, or try to unpack the resonance of the evening, but something changed about how I understood this city that night, and it was as simple as setting a napkin on my lap.
{image Pieter Breugel, Peasant Wedding, c. 1568 (150 Kb); Oil on wood, 114 x 164 cm (45 x 64 1/2 in); Kunsthistorisches Museum, Vienna}