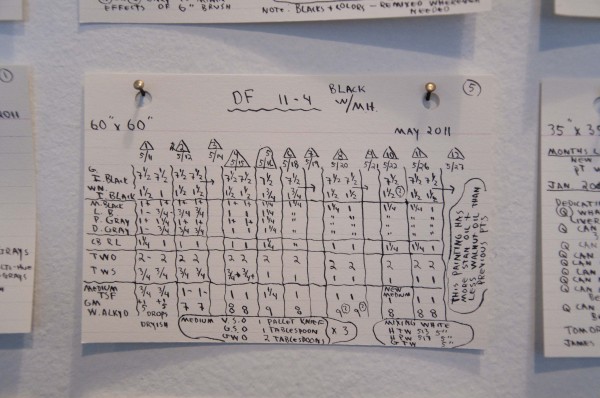 While others swoon over Vincent Falsetta's distinctly abstract paintings, The Reading Room's Karen Weiner swoons over his handwriting, archiving, and documentation. Her small, noncommercial Exposition Park gallery is devoted to the intersection of visual art and the written word, with a goal of good discussion rather than sales. The current exhibition The Index Cards: Vincent Falsetta displays Falsetta's artistic process through two walls full of indexed details, experiments, observations and questions. These documents skirt the line between scientific and artsy, cellular and musical, individualistic and profoundly universal. And not one of his paintings is anywhere to be seen.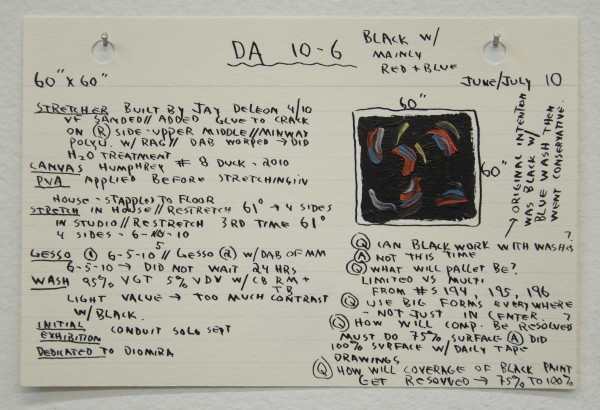 It's very difficult to make a good presentation out of common things, but the expert installation by Johnny Robertson (under Falsetta's direction) brings to mind a well-organized storyboard spread in preproduction for a film. From the cards, we learn specifics on Falsetta's materials and tools, but also unexpected details, like mentions of the music that helps him abate any negative vibes on a given day – a Janis Joplin here, a Jimi Hendrix there. (I've loved revelations on what creative types listen to when they work since learning that Quentin Tarantino wrote the screenplay for Pulp Fiction while listening to the music that became its soundtrack.)  And there is quite a narrative to discover in sequences of color charts, tiny sketches, and lists of problems to be solved, along with myriad Shakespearian asides, dedications, and running commentary on what MWF thinks (that's Falsetta's wife Martha).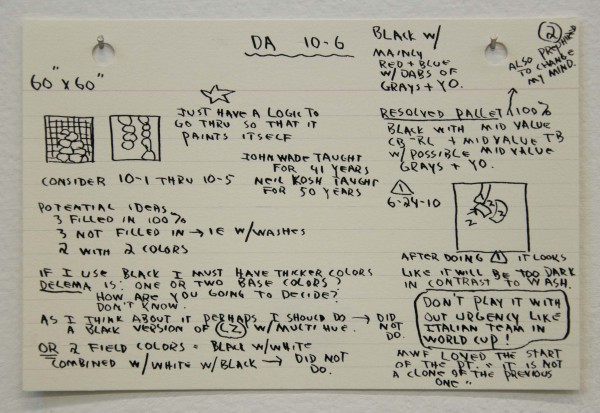 Falsetta has used this elaborate system of documenting each work, by year, since 1997, the same year his work shifted in direction. The cards on view date back to 2004. This tiny space is perfect for a text-based show; more cards would be overwhelming to the visitor, while more space would undermine their visual impact. Some cards contain coded charts that only the artist can understand; some contain miniature paintings of the larger works born of such exactitude; some contain little glimpses of Falsetta's personality that have nothing to do with the technicalities of painting:
"PERHAPS MORE BOLDNESS AS I GO ALONG."
"TO BE RECOGNIZED ONE NEEDS TO TRY DIF. THINGS."
"TAKE THE DAY OFF + DO EMAILS."
"DON'T PLAY IT WITH OUT URGENCY LIKE ITALIAN TEAM IN WORLD CUP!"
Words to live by.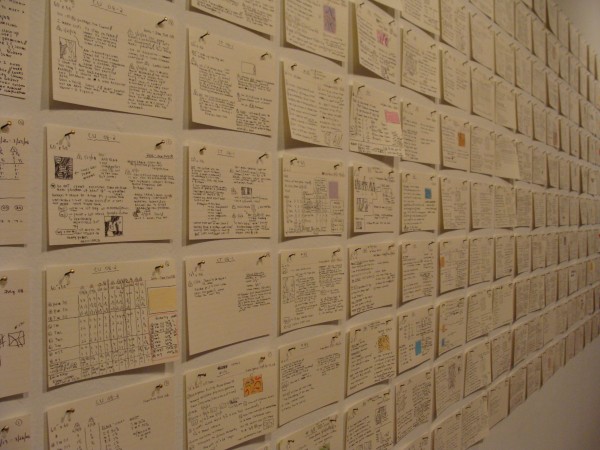 The Index Cards: Vincent Falsetta runs through December 31st at The Reading Room, 3715 Parry Avenue, Dallas. His work can also be seen in the current exhibitions Recurrence Relation: Three Generations of 500X at 500X Gallery through January 8th and from outside, in floats a music box at Conduit Gallery through December 31st.
Photos by Martha Falsetta.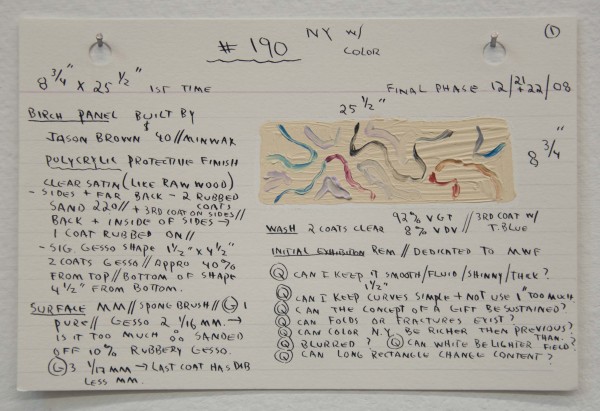 This blog is Don't Look. Okay Look.
Betsy Lewis reads and writes from Dallas, Texas.