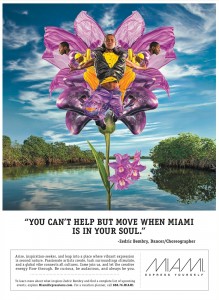 In the wake of Miami, it seems an appropriate moment to address the economic impact of the art fair. Just before Art Basel and its myriad satellites opened last week, Miami Dade County Newspaper took up the question in "The Art Basel Effect" and concluded yes, for Miami, it worked. Between 2002 and 2010, revenue from the average Miami-Dade hotel room grew 51%, and in December alone, it grew by 79%. Equally importantly—and probably contributing to this kind of revenue growth in the travel and leisure industry—the fair has provided the city with a new image that allows it to appeal as a travel destination to HNWIs and culturati—the Visitors Bureau started a new "Miami Expressions" ad campaign featuring artists in 2008. The fairs have enabled Miami to rebrand itself as an (albeit commercialized and slick) culture center and boost its tourism industry. So, what about for the rest of us, what are the economic benefits of something like the Texas Contemporary in Houston?
Assumptions
The fair would break even at 80 paying galleries (# of galleries at Houston Fine Art Fair) and 5,000 3-day pass buyers and 5,000 full-price pass buyers
30% overhead goes to ArtMRKT management, the rest to Houston businesses (i.e. the convention center, manual labor, guards, caterers, etc.)
As an art fair "tourist," my spending patterns are average (conservative assumption–I'm a thrifty 30-something)
50% of art fair attendees are from out of town
Direct Impact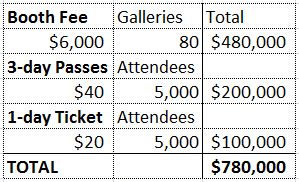 80 galleries x $6,000 booth fee = $480,000
5,000 3-day passes x $40 price = $200,000
5,000 1-day tickets x $20 price = $100,000
Total Revenue from galleries and attendees (sum of above): $780,000
Discounted for 30% overhead: $546,000 to the Houston economy
(For a more conservative estimate, if ArtMRKT broke even this year, with 55 galleries (if all of them paid) and steeply discounted tickets for many attendees (say ½ paid full price, the rest got in free, and of those who paid full price, ½ were 3-day pass holders and ½ were 1-day ticket holders), the dollar value of the money spent to produce the fair in Houston would be lower—about $360,000.)
Impact of Related Tourism
If I'm representative, out of town guests due to the fair have the following spending patterns (i.e. mine):

With 50% of 10,000 attendees coming from out of town, these kinds of spending patterns would result in:
5,000 out-of-town guests x $291 per guest = $1,454,275 to the Houston economy
Intangibles
Houston needs to renew its image to attract a younger crowd and transform the energy industry on which it depends (if Houston doesn't stay ahead of the curve in this industry, other cities will be more than happy to grab it.) In this respect, the long term value of a high profile contemporary art fair and the art scene more broadly could be immense. Just look at Miami.
Bottom Line
My back of the envelope calculations suggest about $2 million to the Houston economy from the Texas Contemporary at its current size. (As a reference point, Houston's 2010 GMP was $403 billion.) There is a lot more to be gained, though, if the fair grows in profile. Houston has a vibrant art scene on which to build, so why not? I'm hopeful ArtMRKT can shake things up.