Needless to say I was super excited when I heard there was a new Muppet movie coming out and what does it mean that I started crying the first time I watched the trailer?  It means it touched a nerve and gave me hope. I know, some pretty strong emotions derived from a bunch of unabashedly silly puppets but what can I say?
I just started reading John Water's Role Models.  If the Muppet Show were still on the air I would love to see John Waters as a guest star and believe he would be exactly the type of entertainer that they liked to have on stage. He already looks like a Muppet and embodies the fun and mischievous energy captured on those original shows.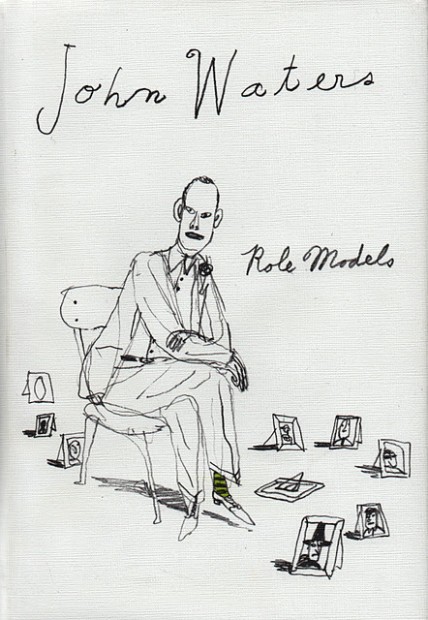 His autobiography documents chapter by chapter people who influenced him and how they effected or continue to affect his life and work as an infamous director.
Kermit the frog could be one of my role models. He is sincere, goofy, a levelheaded good leader and charming. Sometimes his temper gets the best of him when trying to harangue the antics of his fellow Muppets and this quality always made me feel better about my own need to be understood and passion for perfection. I hope on my best days, especially when I am making art or teaching, that I have a bit of Kermit and maybe a little of Animal (for all the opposite and obvious reasons) channeling through me too.
Everything I know about working hard, being earnest, and challenging the status quo came from watching the Muppet Show as a kid. Well maybe not everything, but definitely some of my love for cuteness and subversion came from the furry menagerie. How smart were those puppets slyly exposing the general viewing public to the most amazing range of artists. 120 episodes created a generation(s) love for eclectic music, vaudeville humor, dance and performance. It introduced children, and their adults, to familiar performers like Harry Belafonte, Elton John, Pearl Bailey but also guests that we were not as familiar like Juliet Prowse, the South African dancer or Spike Milligan the comedian, writer, musician, poet, playwright, and actor. What equivalent do we have today that exposes us to such culture?
Alice Cooper was even a guest! I remember his appearance bringing my teen-age older brother in from the other room to watch TV with me. Who could have imagined back then that this self described Devil's agent, would be a family unifier sweetly yucking it up with Miss Piggy as he told her that he had been sent for their souls. In the half-hour pilot that aired in 1975, The Muppet Show: Sex and Violence, the Muppets parodied the proliferation of sex and violence on television. This was a children's show? Well yes, and much more, and as a child not only did I love it but it left its mark on me and it seems on many others too.
Did you know the artist Ron Mueck once worked for and learned his craft from Jim Henson?
Lady Gaga- Muppet Poacher ensemble
Lady Gaga and Jayson Musson in Muppet attire.
And of course my favorite glitterglam performance and rock ensemble Glitter Chariot.
There are also some artists who I do not believe claim a specific connection but have to have been influenced on some level:

Charlie White from the series Understanding Joshua. See more from the series and listen as Jacki Lyden and Charlie White discuss his photographs on NPR in 2002.
And I'll end on a humorous note from the Top 10 Greatest Muppet Mash Up's, Sesame Streets by Martin Scorsese which would be a little raunchy for Kermit I'm sure. I'm guessing this must be the Animal side of my personality coming through. "BEAT DRUMS! BEAT DRUMS! WO-MAN! MUPPET MOVIE!"