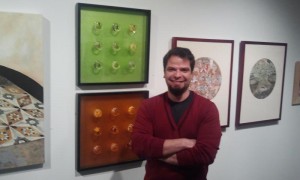 At Friday evening's opening at the Art League Houston, juror Mary McCleary awarded this year's $1000 Gambol for Visual Art Award to Magid Salmi for small fruits embedded with computer circuits. Salmi won the Gambol second prize in 2010, after moving to Houston from Paris in 2009.
Kelly Allison won the second prize of $500 with her painting on plywood titled The Falling Man and Emily Sloan won the third prize of $250 for Farmhouse Architectural Object 1 & 2. Honorable mentions went to Ruben Coy, Fernando Ramirez, Kay Sarver and Patrick Turk.
Art League Houston Gambol includes 39 artworks by 30 artists in the finalist exhibition curated by Mary McCleary, 2011 Texas Artist of the Year. In a tightly packed, salon-style exhibition, 152 artworks from members of the Art League are displayed throughout the building at 1953 Montrose Blvd. The Gambol exhibition is on display through December 30, 2011.