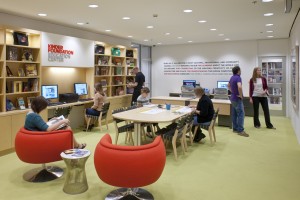 The Museum of Fine Arts Houston has opened its new Kinder Foundation Education Center in the lower tunnels outside the Brown Auditorium Theater. With futuristic chairs that libraries love, free wi-fi, and a digital conucopia of art info, the space is the perfect place to experience vicariously the art you've just passed on the way in.
The new center is part of the museum's "Place for All People " push, and it's paying off: yesterday, the Institute of Museum and Library Services and the MacArthur Foundation awarded the MFAH a $98,325 grant to plan a digital learing lab for middle and high school students. The grant, one of 12 given to institutions across the US, has a variety of stated goals, including to "improve digital literacy", "engage young people in hands-on learning","help youth gain the 21st Century skills and knowledge they need to succeed in school, careers, and life today."
"[email protected]" is the obligatory cyberspeak tag for a program trying to navigate the inherently contradictory divide between the first-person experience of works of art at the core of a collecting museum's purpose with mediated interpretations, which are more easily packaged, easily transmitted, and easily justified to funders, like MacArthur, with educational and social goals.
They have their work cut out for them:  similar well-intentioned efforts have left science and history museums littered with expensive interactive kiosks, digital info stations, and hands-on demonstration machinery that is typically nonfunctional, since the grants that funded their creation rarely provide for their maintenance.