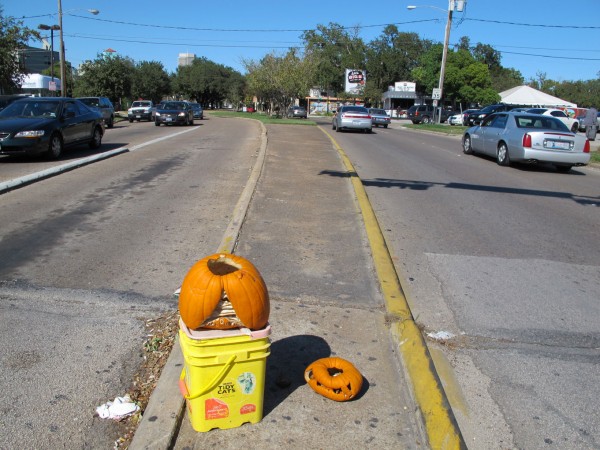 The new permanent installation at Montrose's busiest intersection, Montrose and Westheimer, is a laudable example of public art that truly reflects the ethos of its surroundings as well as trends in contemporary art.
"Untitled" consists of two jack-o'-lanterns situated at the tip of a median. One balances atop a bucket of Tidy Cats cat litter, while the other makes direct contact with the street level, (see Rodin's "Burghers of Calais"). Pulling materials from the world around him, this artist has gifted Montrose with a time-based readymade that recalls Duchamp's "Bicycle Wheel." "Untitled" first appeared on the scene on the night of Halloween. Since that time we have watched this work evolve and evoke questions of decay, mass ritual, and urban life. On a formal level, elements of the work pull together the street's color scheme of yellow road lines, turn signal lights, and Valero gold, while the rotting and dehydrating innards of the jack-o'-lanterns are slowly metamorphosing to match the concrete's surface itself. In its original edition it also contained a cowboy hat atop the big pumpkin, but as the artist intended audience participation and generosity to the viewer, a collaborator has since contributed to the meaning of the work by removing the hat.
This thoughtful artist remains anonymous although we know they must be well acquainted with contemporary trends of intervention and abdication of authorship, and be particularly inspired by the work of Dieter Roth. Although the work is both conceptually and formally cohesive, it allows for a variety of possible readings while still reminding us of the inescapable cycle of life, death, and decay.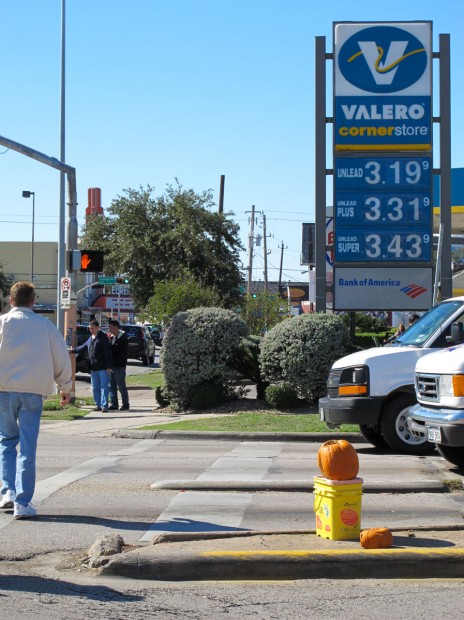 [Just in, pre-theft and decay photos of the work…]
http://theloopscoop.com/street-art-of-the-week-scarecrow-dual-style
________
Carrie Schneider is a conceptual artist who sees artists as activators, free agents, problem solvers, tricksters, healers, liminal space dwellers and conduits for change. Her work includes collaborating in the development of labotanica, facilitating art projects for refugee youth from Burma, and launching an online library of public-generated audio walking tours around Houston.