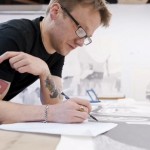 Setting a high-water mark for art-dealer niceness, Moody Gallery has sent out an open letter asking for help for artist (and Glasstire contributor) Michael Bise, who, as you may have heard, is awaiting a heart transplant:
November 4, 2011
Dear Friends,
Recently we have been confronted with the news that Michael Bise is now on the list for a heart transplant at Methodist Hospital in Houston. He was born with a congenital heart condition and now requires a new heart in order to live.
We are reaching out to you- family, friends, and colleagues- to help assist in the financial obligations associated with this procedure. The cost of medication, surgical procedures, and living expenses during his lengthy recovery will exceed $50,000 in the first year.
In the spirit of fundraising for a worthy cause, we are asking for gifts of any amount to help during this time. Please consider making a contribution by visiting the website established for this cause- www.michaelwbisejr.org
Michael is an Adjunct Professor in the Painting Department of The University of Houston, a professional artist represented by Moody Gallery in Houston and a regularly contributing writer for the online publications Glasstire and Fluent~Collaborative. Michael earned his Masters of Fine Arts degree at the University of Houston in 2005 and has been a lively presence in the Houston art community ever since, exhibiting at the Contemporary Arts Museum Houston, Galveston Arts Center, and Fort Worth Contemporary Arts at TCU.
Sincerely,
Adrian Page, Betty Moody and Lee Steffy
Bise is the second Houston artist recently to resort to public pleas for money to meet medical expenses: Skydive founder Sasha Dela, recently diagnosed with Multiple Sclerosis, was the beneficiary of a blowout art-sale-yard-sale  last month. Obamacare, the art community needs you now!