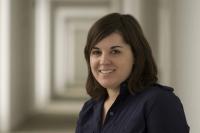 Michelle White, who curated such fascinating, unexpected shows as  Imaginary Spaces: Selections from the Menil Collection; Leaps into the Void:  Documents of Nouveau Realist Performance, and the recently opened Seeing Stars: Visionary Drawing from the Collection, has been promoted from associate to full curator at Houston's Menil collection.
Menil Director Josef Helfenstein said, "In a very short time, Michelle distinguished herself at the Menil by organizing splendid exhibitions, presenting lectures and participating in other programs, and making important contributions to our scholarly publications." The speedy promotion from inside (White began as assistant curator at the Menil in 2006), as well as their recognition of White's thoughtful approach is welcome reaffirmation the Menil's traditional tendency to follow its own rules, and plan for the long term. Along with recent hire Toby Kamps, White's promotion cements for the Menil youthful curatorial talent that will continue to pay off for years.
After a brief post-Dominique malaise, the Menil is back! And they're building a cafe!