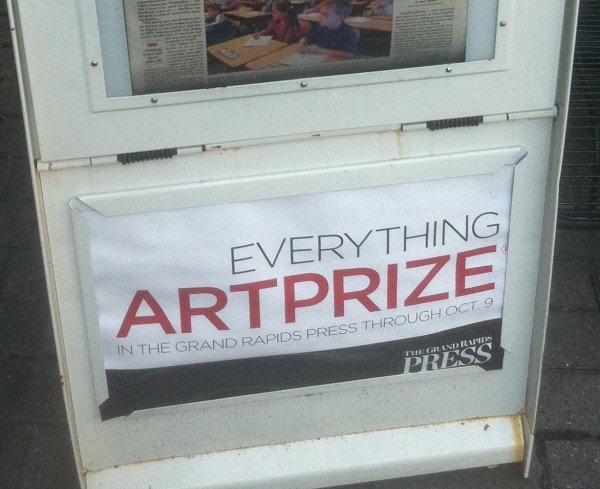 Local media enthusiasm has helped make ArtPrize an even bigger deal than its money has.
Photo credit: Janet Tyson
ArtPrize is an annual competition that features thousands of artworks ranging from the sublime to pure schlock, artists acting like candidates for public office, local media in a state of unabashed boosterism, and a voting system that relies on digital savvy. Launched in 2009, it features hundreds of art installations in and near downtown Grand Rapids, Michigan. It offers an award of $250,000 to a first-place winner, along with nine lesser awards, all chosen by popular vote, and seven professionally conferred awards. Total prize money is about $450,000.
The top prize-winner in 2009 was an unconventional seascape by a Brooklyn artist named Ran Ortner. The large-scale work had real critical merit–a relief to the city's professional art community. The top winner in 2010 was a near-life-size pencil drawing of World War I soldiers, made by Grand Rapids artist Chris LaPorte, that sealed the popular trend towards big, representational images. But establishment of juried awards, which hadn't been part of the first ArtPrize, prevented the competition from devolving into pure, populist spectacle.
ArtPrize 2011 has attracted about 400,000 viewers and more than 1,500 artists–most of them from Michigan. The balance came from elsewhere in the U.S., with a handful from overseas. Many, perhaps most, competitors were amateurs, many were commercial illustrators or designers. A solid percentage were studio art majors or professionals of varying degrees of facility and sophistication.
This year's Top Ten works included two pleasant, nonobjective mixed-media entries; three caricaturish sculptures in welded steel; a droll installation of chainsaw-sculpted wooden bears; a performance piece that could have been a parody of Gilbert & George but was straight-ahead macho; a life-like sculpture of former President Gerald R. Ford; and an outdoor mural-scale collage. The winner was a tesserae altarpiece representing a crucified Christ, by Mia Tavonatti from Santa Ana, California.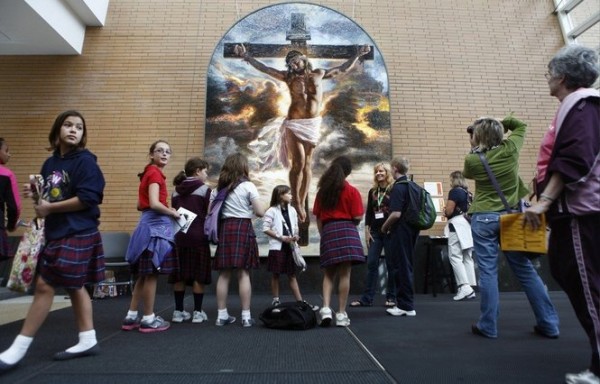 Crowds in front of the grand prize-winner, a mosaic mural by California artist, Mia Tavonatti.
Photo credit: Janet Tyson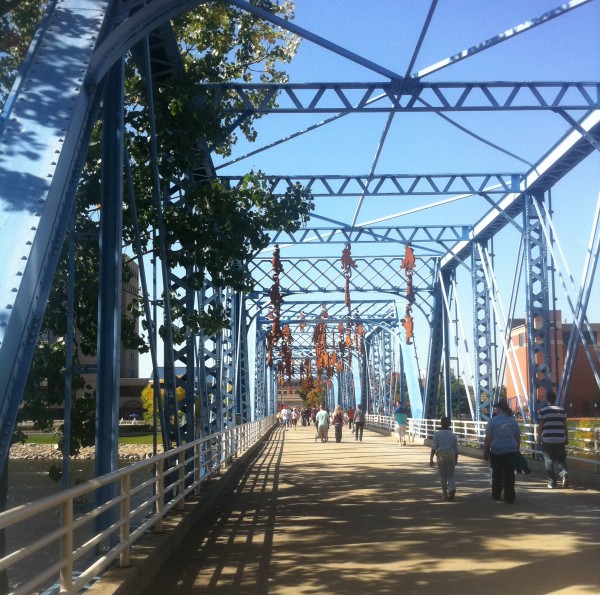 The so-called Blue Bridge–a former railroad trestle converted to pedestrian bridge–connects a campus of Grand Valley State University with the city's central business district. It, too, is a site for art installations. Photo credit: Janet Tyson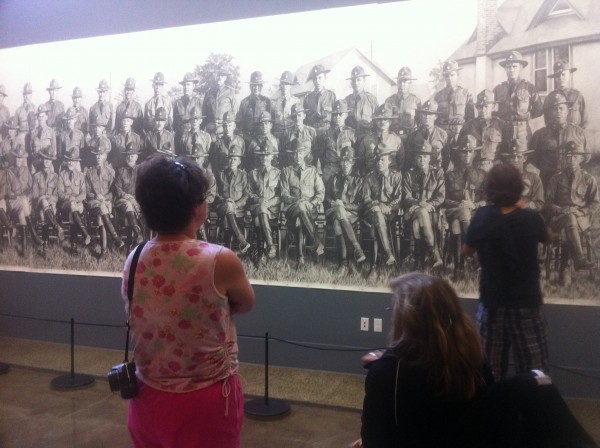 Chris LaPorte's winning drawing in ArtPrize 2010 is now part of the event's permanent collection.
Photo credit: Janet Tyson