Last week I made my way through a derelict neighborhood in East Dallas, down a busy one-way throughway, to the storefront space of Oliver Francis Gallery, an ambitious new alternative space run by a fellow named Kevin Jacobs. I'd been asked there by artist Jesse Morgan Barnett, whose work is on view there now in a show called Compensation Assembly 1993 – 2008 — a chalky, quiet, mayhem-riddled show about loss and its destruction, reconstruction and masking pain. The work is well-suited for Jacob's space here — a rough and tumble sort of place, with lots of wiggle room for artists to let loose with ideas and work that isn't as suited for the traditional, pristine gallery setting. Barnett's fractured and compelling work proved a serendipitous corollary to what Jacob's aims are for Oliver Francis Gallery itself, which is to stray from the commercial gallery norm and provide a think-space and action-space for artists. Jacobs is keen to note that he's not interested in showing work in traditional media, either — paintings, prints and the like — and cares more about creating a forum for work with little or no commodifiable factors: performance, installation, and art happenings.
While programming like this isn't necessarily progressive in and of itself, it certainly is for Dallas, which never nurtures any alternative space for very long (except 500X, of course). By taking advantage of cheap rent, an absentee landlord, a dearth of progressive art venues, and a cache of thoughtful area artists,  Oliver Francis Gallery is setting an example in Art World Do-It-Yourself-ism, proving that a little invention and self-sacrifice make a lot of difference.
I chatted with Kevin Jacobs about his gallery and its place in Dallas' art scene.
(All images are from Jesse Morgan Barnett's current exhibit at OFG.)
What's your background? 
I am from North Richland Hills, born and raised by an American father and Bolivian mother. I am anticipating a degree in Philosophy from the University of Texas at Arlington with a minor in Studio Art in December. I work at the Goss-Michael Foundation as their Educational Programmer/Collections Assistant. I have been working for them since the beginning of the year and hope to be with them for a good while. I was never really interested in art or the art world until my third year at the university (2009). Since then I have been immersing myself in contemporary art theory, work and markets. I consider myself a practicing artist, though I have set aside my original practice as a painter to concentrate on more conceptual installations, performance and participatory events.

What compelled you to open Oliver Francis Gallery?
Initially, I was more interested in obtaining a studio space, but the opportunity to direct a gallery weighed more heavily. The gallery started as a response to influences that I have spanning the globe, from Croxhapox in Belgium to Reena Spaulings and White Columns in New York and Tiny Creatures in Los Angeles. These venues, if you will, have a certain disposition to present work that is challenging and non-compromising. I wanted Oliver Francis to act as a catalyst for artists and thinkers to present work and projects to the public that are totally removed from money, so that the work and ideas can just be about themselves and the world (unless the idea is about money…).
I want uncomfortable. I want unashamed. I want unapologetic. I want experimental. In a way, I wish to see more counter-actions performed and exhibited at Oliver Francis, while being intellectually grounded, succinct, ephemeral and extra-ordinary.
Were you at all worried that it was audacious of you to open a gallery space because you didn't have enough cred to do so?
I would never be worried about audaciousness, rather I embrace that negation of safety. I think opening my gallery with the seemingly small credibility that I have sets an example to others wanting to do more with their work and themselves. I choose to still live at home with my parents, so that I can afford the rent of my gallery, so I can provide a place for others to feel free, experiment and have fun. I love the fact that I don't have an Art degree or a masters in Art History at this point, which isn't to say that I'm not interested in curatorial master programs or MFA programs in the future (reasons to escape Dallas for a couple years). Discrimination based on credibility has no ground to stand on either, just like an artist doesn't need a degree to be an artist. It's self-proclamation, dedication and will that counts over anything.
So you are funding the space? Out of your own pocket?
Oliver Francis is funded directly by my paychecks. Interestingly, I work at a contemporary art museum which indirectly funds a small experimental art space on the opposite side of town.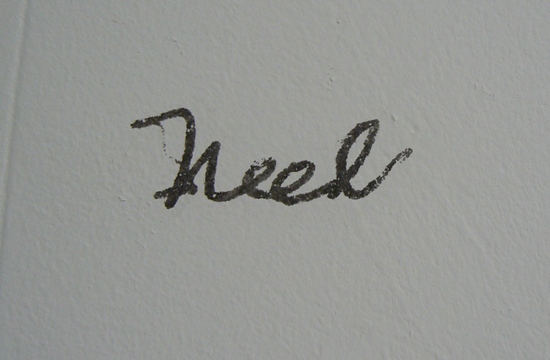 What void do you see OFG filling in the Dallas art scene?
I see Oliver Francis supporting the role of a space for complete and total experimentation. A space that can show anything and everything and none of the above. There are a number of spaces in Dallas that are doing great things, but the thing is that number is very small. I'd love to see that number climb, but it takes responsibility from a triad of participants to build up: artists, art professionals, and collectors/supporters. Dallas just doesn't take risks as much as other cities in my opinion, which is a reflection in a sense. I invite risk-takers and artists and thinkers that are aware and conscious of their surroundings and their place within the contemporary art world and the modern world as it exits today.
Why do you think Dallas needs to show art like this — art that's so uncommodifiable?
There was an article or interview with Paul Slocum, in which Slocum says that And/Or Gallery was supported mainly by two collectors: one in Belgium and the other in Washington DC. But after three years the gallery dissolved with Paul moving to New York (a neat place from what I hear).  With the type of progressive and exemplary work that was shown there, it was a shame that sustaining efforts were not made by Dallas to keep it alive. This may have been a digression, but I think it fits.
Committing to a program of exhibitions and shows that are not overruled by the works projected potential to sell appeals to me very much. Just like you can walk into the Dallas Contemporary or The Goss-Michael Foundation (non-profits) and see the works of contemporary artists who create extraordinary installations, this sets up a different equation for those who enjoy just experiencing art. And when the scale of the show is on my level of output (a one-man operated art space), but has the same level of ambition, then I think exciting things can happen. I have my favorites of the commercial galleries around here and they do a great job with their responsibility of representing artists and getting their work out there. I have no qualms about what those commercial galleries do and accomplish. Anyway, each art space will have it's objectives, and mine rests (entropically) on the exploration of artistic communication and contextual relationships within and outside of the sterile cubic environment.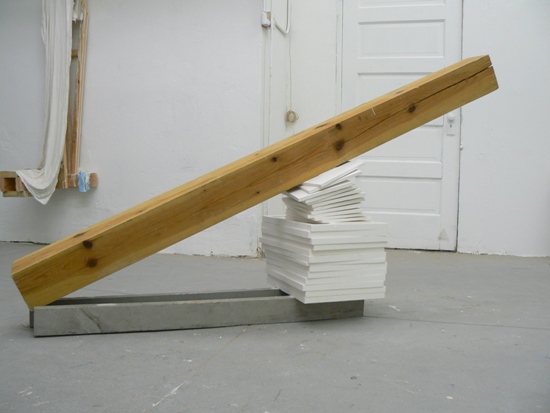 Why do you think Dallas' galleries aren't showing work such as you show at OFG?
For commercial galleries, money plays a majority role. How much potential revenue is there and how much can be expected and actualized can be two very strikingly different figures. And their responsibilities and objectives are far different from mine. As with non-commercial galleries, I'm not sure I know of many that operate on a similar level as I do around here. As for the ones I can think of, I don't think their priorities would be the same as mine either… I don't know who they consider competition, but I like to think I can run a space that could eventually gain the attention of international figures, large or small, which could turn some focus to the progressive and dynamic arts atmosphere/initiative set out by Dallas (or the art scene Dallas says they want to have). Or maybe I am just fooling myself.