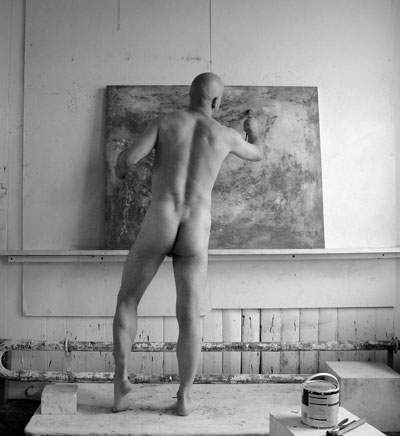 So you wanna be an artist. A successful artist. Then these are some rules to live by. Granted, artists are good at breaking rules (and should), and you can take or leave what you like here. But as far as I can tell, the successful artists I know have internalized this stuff.
About you:
Admit that you want to be an artist and that you'll do whatever it takes to be one.
Accept that you are not Picasso. You are almost certainly not a genius, as there are fewer than one of these per generation. Make up for it by working your ass off.
If you have low or limited energy, avoid relationships that drain it, i.e. marriage and children.
Have a studio that's not in your own home.
Take a job only to pay for what you need to be an artist.
Retain a healthy sense of absurdity. Accept that you will likely be funded by the buying habits of Republicans (because they have the money).
Keep up with news and ideas and art that's happening in other places. Form some opinions. Be able to talk about it.
Spend a lot of time with and around other artists.  Talk. Drink with them. Go to openings with them.
Be both supportive and competitive with your peers.
Do not wait for a dealer or curator or collector to give you a place to show. Especially these days. Get together with your peers and make it happen.
Go to school to get your MFA; you'll need the connections you make there.
Don't even think about getting a doctorate in studio art. It's total bullshit and it's just a way to hide from the real world. Working in the real world is the lifeline to your work.
Until you're so rich and famous that you can check out, you have to live in a community with an art scene, and you have to be a part of it.
Exchange studio visits and artwork with other artists as much as you can stand it.
Pay attention to the world and people around you.  You'll need those observations.
About your artwork:
Let your audience fill in the blanks. Don't be so literal.
Be investigative rather than self-indulgent.
I don't want to complicate it by adding anything else.
Okay. Good luck out there.