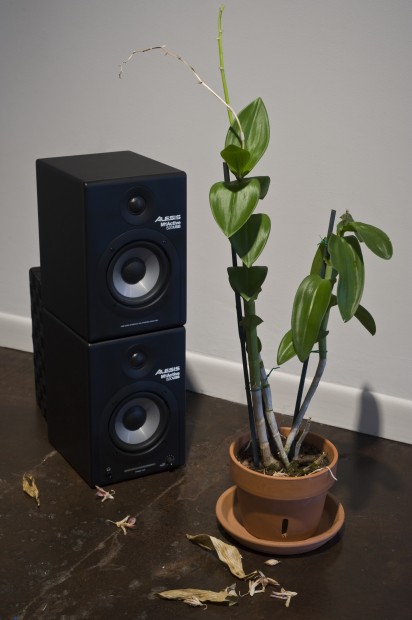 An orchid is dying. Its brown bloom stalk leans over a stacked set of studio monitors resting on the gallery floor. Lionel Richie's crooning ballad overtakes the quiet buzz of three Chinese fortunetellers speaking through three monitors laid out diagonally across the main gallery space controling the flow of traffic like a Robert Morris sculpture from the sixties. In the back corner an openly amateurish portrait bust in shiny plasticine sits on a rough plywood pedestal complete with the neon spray paint manufacturers markings. A large wavy linear pencil drawn chart reminiscent of a Mark Lombardi drawing has a delicate, wavy, net like presence on a far wall. Liz Rodda's show Tomorrow exemplifies a contemporary post-minimalist practice defined by diverse projects driven by interrogation of ideas and naked materiality.
…Hello, is it me you're looking for, because I wonder where you are…
is someone loving you?….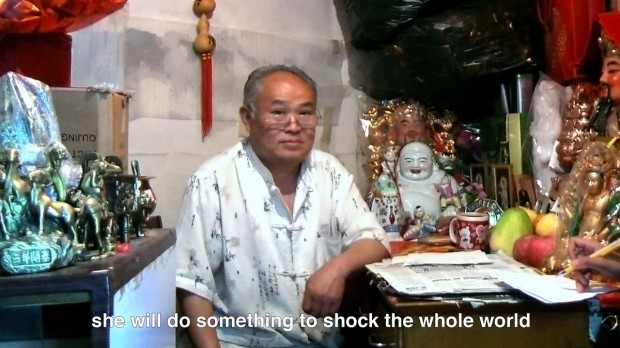 These works unfold in the stories that surround them. Brand 10's co-founder, Matt Clark, tells me it is as if the flower is dying of love, a yearning exemplified or embodied by the music. Perhaps. It seems more like the endless repetition of pop music is actively draining the vitality inherent in blooming. Next to the Chinese Fortune tellers it also speaks to the global network of exchange, ease of travel, and access to goods. That orchid is not from here: exotic, out of place, yet simultaneously familiar. I could pick one at the grocery store tonight.
…tell me how to win your heart
for I haven't got a clue
but let me start by saying I love you…
The plasticine bust is the artist's former boyfriend molded from memory with eyes closed, a kind of raw direct vulnerable project with a refreshing anti-virtuosity.

On a residency in China, Rodda hired three different fortune tellers/horoscope readers to tell her fortune and video taped each of them with them with a stationary camera. The effect is that the similarities and differences between the three frames become fascinating. These men are well fed.  Forecasting the future, it seems, is good business in China. With freshly pressed clothes, and shiny plump faces, their hair suggests recent and regular barber visits. The scent of cologne is nearly present. They speak confidently if thoughtfully imagined narratives of the future. Three futures for one person! How fabulously extravagant. Looking at their surroundings suggests another story about resources. The first sits at a table cramped with various mass produced figurines, some still in plastic. The second speaks from a small non-descript bedroom. The third positioned behind a chunky black computer monitor and in front of a red vinyl yin/yang symbol poster plastered to the wall with bubbles in the surface imply it's impermanence, the speed at which it was placed, and the insignificance of it's being.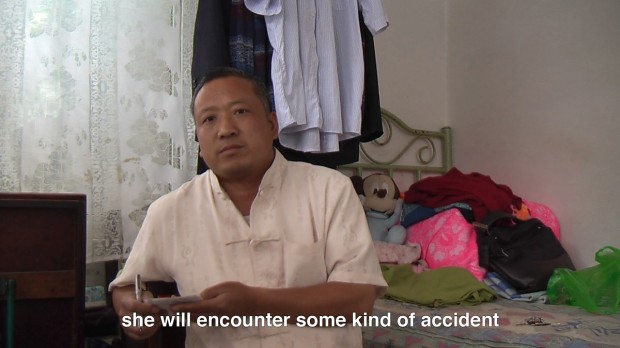 Fortune telling, horoscopes, former boyfriends, pop music, longing, decay: this is the psychological terrain of teenage girl fantasy. Teenage time, that time when most of life remains an undetermined future, a series of contemplated but unmolded tomorrows.  The anxiety over this uncertain future balanced with the ease of disregarding present realities is timely. Surrounded by the perky green lawns ever-present in Dallas, I'd have no idea Texas was in the midst of national disaster-ranking drought.
hello, I've just got to let you know
because I wonder where you are
and I wonder what you're doing
are you somewhere feeling lonely
or is someone loving you…
tell me how to win your heart
because I haven't got a clue…
Liz Rodda :  Tomorrows
Brand 10 Art Space
Fort Worth, TX
June 3–July 30, 2011
Rebecca Carter is an artist, writer and teacher currently living in Dallas.