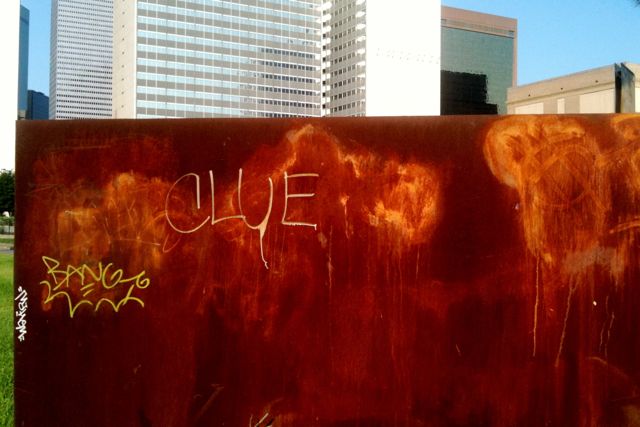 Robert Irwin's Portal Park Piece (Slice), 1981, is the choicest strip of  bathroom wall a vandal could hope for. It's eight feet high, spans three lush lawns in downtown Dallas, and nobody notices it, much less takes care of it.
The sculpture has bisected a lovely but pedestrian-free park on the east edge of the city for 30 years now. Not being part of the current artistic rebirth of Dallas, it goes totally ignored. I, commuter, ignored it for years despite gawking every day at the streetside proverb  "Ozzy Rocks" until finally, for reasons unknown, it dawned on me that I was staring at public sculpture defiled. In the course of a single redlight, I traced the wall to the far side of the intersection shooting toward Central Expressway, then saw its backward progression in my rearview mirror.
The Slice's creator, Robert Irwin, was the first visual artist to receive the MacArthur Genius Grant, had his first show at the Whitney in 1957, and his first retrospective there in 1977. He is 84 now and an active, driving force in the design of the Los Angeles County Museum of Art's gardens.
Our "Portal Park Slice" was completed in 1981 and funded by the National Endowment for the Arts, the Southland Corporation, and the City of Dallas. It is made of the same rusted Cor-Ten steel that most of us associate with Richard Serra. In 1992, a survey by "Save Outdoor Sculpture, Texas" (whatever that is) judged the Slice "well maintained." Maybe that was true in 1992, but almost 20 years later, it has been defaced by worse than "Ozzy Rules" and no one seems to notice or care.
This is a fine sculpture and probably an important environmental work, or could be, or  should have been.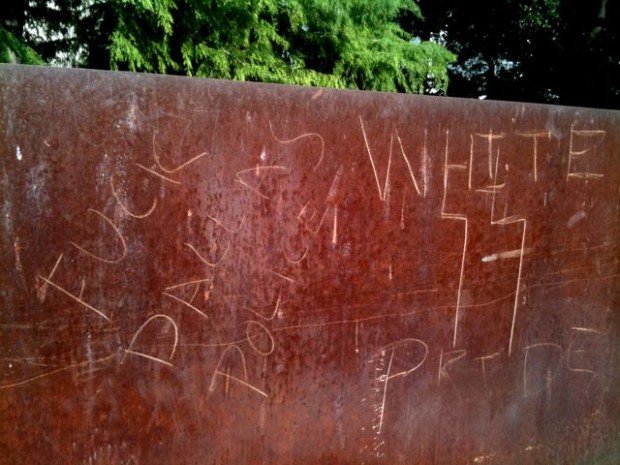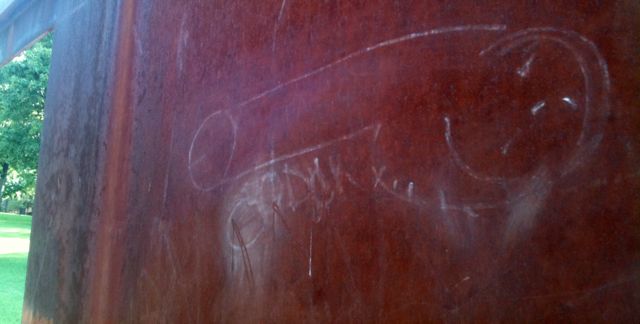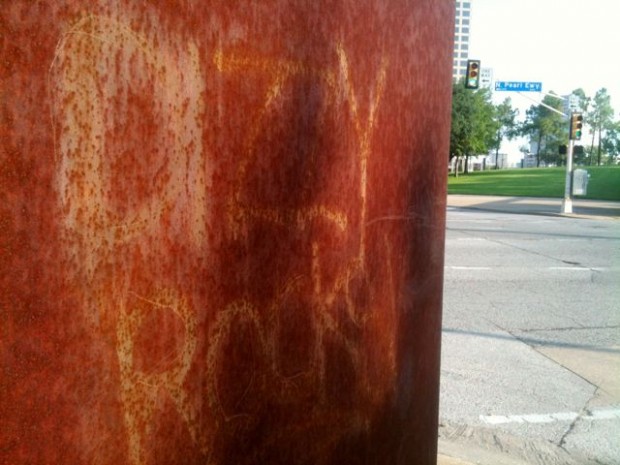 Betsy Lewis is a writer who likes art and lives among vandals in Dallas, Texas.