Artists generally can't afford to be too materialistic, but they can be counted on to come up with creative responses to tough economic times. Director Patty Ortiz has assembled four artists who "tend to look for deeper values, such as beauty" in "Trans/Action" through June 25 at the Guadalupe Cultural Arts Center.
"You are what you buy" might be the dictum for today's hyper consumers. Spanish-artist Ester Partegas, born in Barcelona and a resident of Brooklyn, illustrates this submersion of personal identity to brand-name status consciousness. Her backgrounds are gritty, 1950s-style black-and-white photographs of people's legs, feet and shopping bags, but their upper bodies are blotted out with abstract swaths of color that appear spray painted, overlaid with rectangular blocks containing commercial taglines such as "No Prescription Necessary" and "Styled By." While working with formal issues, Partegas shows people becoming their labels, their selves smothered by the gaseous onslaught of pervasive advertising.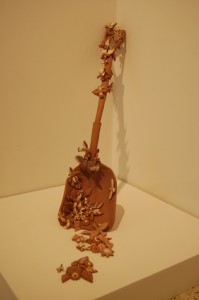 Margarita Cabrera's installation documents Forezca, the for-profit multinational corporation she's formed to counter the rise of Mexican factories called maquiladoras and the corresponding decline in traditional craft making in Mexico. Cabrera has created a growing body of work celebrating Mexican labor, including the ceramic shovel decorated with butterflies and flowers shown here. Her full-scale John Deere tractor, also made from pink ceramic, is featured in "New Image Sculpture" at the McNay Art Museum. But at the Guadalupe, the centerpiece is a taco stand displaying some of the products Cabrera has manufactured at her workshops (shown in a video), including embroidered soft sculptures of desert plants based on the narrative traditions of Los Tenangos, Hidalgo, Mexico, and copper butterflies from the artisanal coppersmithing traditions of Santa Clara del Cobre.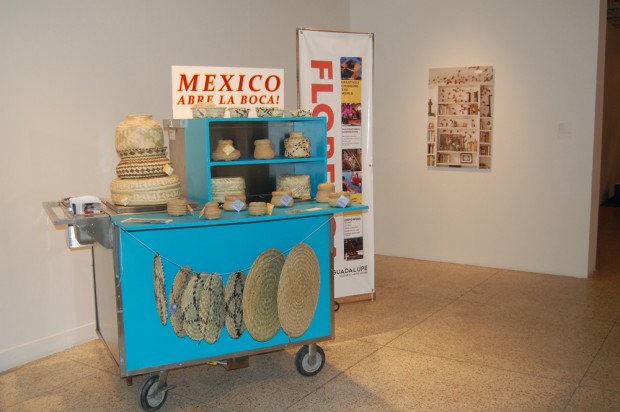 For Maximo Gonzalez of Mexico City, money is a material for making art. Using strips of shredded currency, he weaves traditional-looking tapestries. The bright colors of the printing form layered abstract patterns in these labor-intensive pieces that place a higher value on aesthetics than on commerce.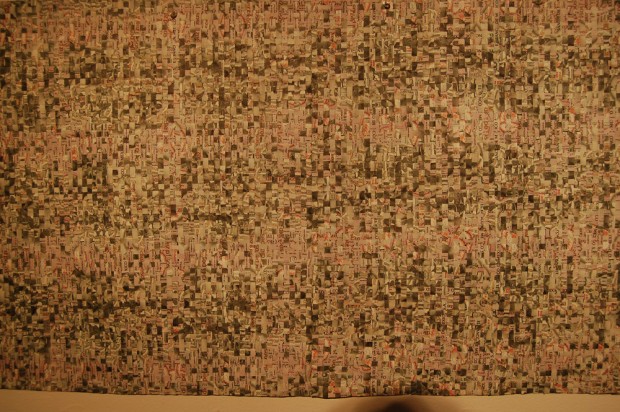 Cooperatives, artist-run spaces and bartering are ways artists seek relief from "real world" economic pressures and commercial galleries. In two rooms at the Guadalupe, Kimberly Aubuchon has re-created her genial Unit B Gallery with help from some of her cohorts. Mixing cutting-edge contemporary art with backyard barbecues, Unit B is in a duplex near Sala Diaz and the artists' "compound" on Stieren Street in the King William neighborhood. Aubuchon opened her first living-room gallery in Chicago and then moved to San Antonio to work at Artpace. Since 2006, Unit B has exhibited more than 200 artists and 20 guest curators. Aubuchon has acquired or traded for works by many of the artists, and she asked Chad Dawkins to curate the collection to hang in Gallery B's living room re-done by interior designer Amy Austin and with doors and windows drawn by Jeremiah Teutsch. Snug and mid-century cozy, the living room's walls are filled with mostly small-scale framed works, while the TV is showing a different video every two weeks during the run of the show.
From Juan Angel Chavez's brazen "Porn Sock Cactus Hell" sign to Brian Dettmer's delicate shadow box made with illustrations clipped from an old encyclopedia, this mini-retrospective reflects Aubuchon's eclectic tastes. Henry Rayburn drew his fleeting glimpse of Peru from a bus window, while Richard Mogas' untitled drawing evokes cool jazz album covers. Perhaps most in keeping with the spirit of Unit B is Mark Hogensen's smudged charcoal drawing of a barbecue grill. In a separate room serving as the backyard, Ethel Shipton upholstered a basketball goal, sided by lawn chairs, a fire pit and a cooler with a cup on top for beer donations – a droll documentation of the real lives of San Antonio artists.