Lawndale Art Center's annual market/design event has evolved into something very, very cool. It started out life 16 years ago (if my math is correct) as the "20th Century Modern Market." Always a big event, it was  packed to the gills with dealers offering vintage objects, furniture and clothes. In true Lawndale spirit, it had a rollicking flea market feel to it as people crowded in and tried on 70s sun hats and tested out 60s couches.
"Design Fair 2011" is a hipper, more sophisticated version of the old event – but it's still pretty damn fun. Curated by artist Michael Guidry, Design Fair 2011 is much more spare and more carefully chosen. It still includes select dealers in mid-century pieces but the primary focus has shifted to highlighting home grown Texas design. It's not just regional boosterism; Texas designers are making some pretty great things. Here are some of my favorites from the Preview Party:
Houston-based plodes studio's (John Paul and Roya Plauché) "Barnacles" are wall art that can also store all kinds of crap. They'd still look good crammed with junk mail and come in sets of three in small, medium and large and go for $240.
Also from plodes studio (of the e. e. cummings capitalization-is-overrated school) this cast crawdad mound/doorstop took me back to my Arkansas childhood. I also just like the idea of having an unidentifiable lump of something sitting on your floor. Plus it's only $25.
I freakin' hate cats* but I would get one just to have David Tsai's cathouse/sculpture in my home. On second thought, I wonder if you could fit a blind Jack Russell in one of these?
*I kid, I kid, some of my best friends are cats, really…
The Houston designer also has the world's coolest toothpick dispenser, if you're into toothpicks…
Houston's The Local Paper offers stylish, recycled content gift-wrap. At eight bucks a roll, I'm tempted to decoupage my walls with it.
I took this crappy picture of Houston-based Robertson Design's newly produced coffee table, it's much better in person. (It's so newly produced there is a call into the fabricator to figure out pricing.) I'm a sucker for glossy automotive paint, plus it looks pretty kidproof.
And if you are looking for something to put on that coffee table, Vernon Caldera of Houston's Left Brain Right Brain Design is doing some jewel-like terrariums. I remember terrarium's from when I was a kid. They're a really great idea and these look fairly unkillable.
Caldera has three sizes and names them after small, medium and large cities. "Buenos Aires" is $300, "Conroe" is $100 and something in between is $200. They're a little pricey but if you are a serial plant killer like me, they're a total bargain.
Artist and designer Peter Glassford (younger brother of Mexico City-based artist Thomas Glassford) is in with a truckload of furniture that arrived at the 9th hour from his Guadalajara workshop. (His business is based out of San Antonio.) Glassford studied sculpture at UT and it shows in the solidly elegant forms of his chairs. Plus, they're surprisingly comfortable.
T-shirt's from Houston's Selven O'Keef Jarmon are available on Lawndale's third floor. The artist, designer and activist has been pursuing numerous projects in South Africa since the early 2000s and these button t-shirts channel African beadwork. Jarmon designed the hand-decorated t-shirts exclusively for Lawndale Art Center and all sales benefit Lawndale, so buy a lot.
Also on Lawndale's third floor, students from the University of Houston's Industrial Design Program are showing off their stuff. Esque design group's interchangeable daybed pixel[esque] was interesting, and I'd love an outdoor version.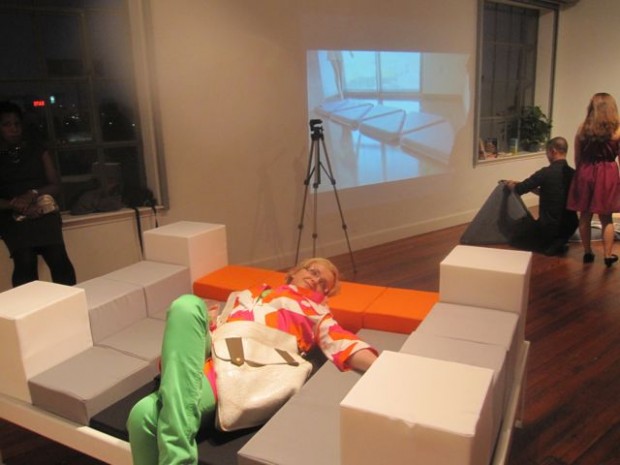 Bosnian design fan, Sejla Bakalovic tests out – and coordinates with – esque design group's daybed. (Video of RAW collective's flexible seating VIERA is visible in the background.)
There's loads more good stuff, and if it's still Sunday, April 3rd 2011 when you're reading this, "Design Fair 2011" is open until 5 pm with 5 dollar admission. Otherwise, design locavores will have to hit the designers' websites. Lawndale Art Center, 4912 Main, 713-528-5858.