In his spatial intervention at Artpace, New York artist Corey McCorkle used air conditioning vents to connect his second floor artist's apartment to his first floor studio, emphasizing the way buildings "breathe." The vents run through galleries and down a stairway, ending up in front of a large projected image of the sign on top of the 1920s-vintage Robert E. Lee Hotel, which advertised itself as "100% Fully Air Conditioned."
"Controlling your environment is a huge issue in this age of global warming," McCorkle said. "I do installations that are specific to the space. I designed an air conditioning unit connected to my apartment that would suck air out of the studio so you get the sense of the building breathing in and out. I wanted people to be aware of the relationship between the spaces."
McCorkle along with Monika Sosnowska of Poland and Jamal Cyrus of Houston worked with common building materials in their international artists-in-residence projects curated by Patrick Charpenel, an independent curator from Mexico City. "10.2" wraps up this weekend at Artpace.
In one of his best-known architectural installations, McCorkle cut a perfect circle out of the Kunsthalle Bern's hardwood floor as part of a solo show in 2005. He turned the resulting disk 23 degrees to match the pitch of the earth on the solstice, a subtle intervention that was hard to detect.

But at Artpace, the rambling air conditioning vents are hard to miss, revealing the artifice behind the air conditioned cool of the building. Of course, without air conditioning South Texas wouldn't be habitable during the summertime.
"There's a certain decadence to air conditioning," McCorkle said. "Air conditioning is a little bit invisible since it doesn't call attention to itself. But I wanted people to be aware of where the cool air comes from."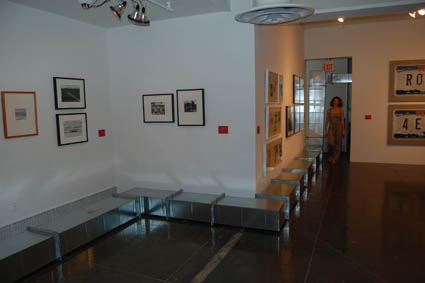 Mesoamerican architecture, music and UFOs mingle in the mixed media installation by Cyrus, who considers cross-cultural blending in "Phonic Substance." Most imposing is a flat, monolithic slab of concrete etched with sound lines that suggest the Nazca Lines, giant land drawings in the desert of Peru. Nearby is a large bronze conch shell perched at the apex of a white pyramid modeled on the Pyramid of the Sun in Mexico's ancient city of Teotihuacan.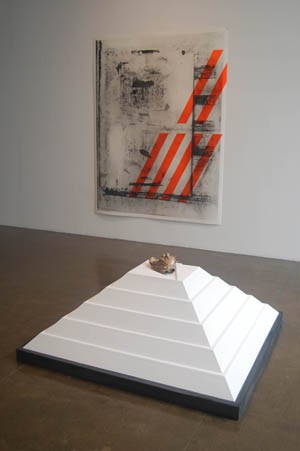 "I was thinking about what the world will look like in 20 to 30 years," Cyrus said. "I was also intrigued by the merging of two cultures. The cultures of Mesoamerica all had different rituals and types of architecture. Various cultures build pyramids but they tend to have different meanings and functions. I'm also interested in jazz and the way artists such as Coltrane and Sun Ra blended their influences."
A large drawing, resembling a film strip, combines images of an ancient Olmec head with images of a flying saucer that was released by the government after a request through the Freedom of Information Act. The documents, with large areas blacked-out by a censor's marker, inform a large-scale drawing.
Dozens of microphones are directed at a drum kit with the bass drum covered in soft black leather. But the equipment isn't hooked up and can only record silence. Instead of the rich blending of various components of culture, Cyrus suggests that cultural cross-pollination can result in missed messages, misinterpretations and dead ends.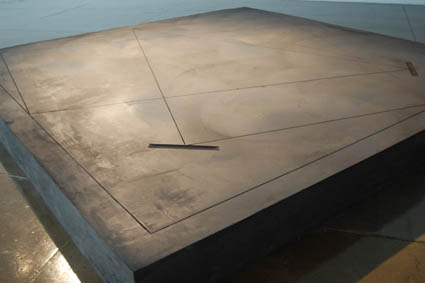 Sosnowska began with a standard metal fire escape staircase, which she squashed and twisted into abstract sculptural forms.
"I am trying to change the functionality of objects," she said. "Recycling can be a metaphor. What is life like after life? What happens to materials after a building is torn down?"
The twisted blocks of the metal staircase look like they were crushed beneath the giant feet of the monster in "Cloverfield." They have a fundamental structure lacking in most abstract metal sculpture; their dramatic transformation suggesting the power of forces beyond our control in a universe directed by simple twists of fate.