To create
Timelapse: 54 Days, Lincoln Street
, Marfa-based artist Martha Hughes completed 54 paintings of the same subject—her kitchen table. Over the course of a year, Hughes photographed the table every day. Then she set to work painting.
The artist describes this series as a reflection of her interest in time, but the work offers little evidence of its passage. Hughes applies acrylic paint in swaths of flat color devoid of details such as natural light and shadow, telltale markers of time and season. The white kitchen table remains constant in each picture, and occasionally Hughes leaves everyday objects on its surface—what appear to be reading materials, placemats or napkins.
"I find my ordinary surroundings to be a great source for imagination, creativity, and art," Hughes says.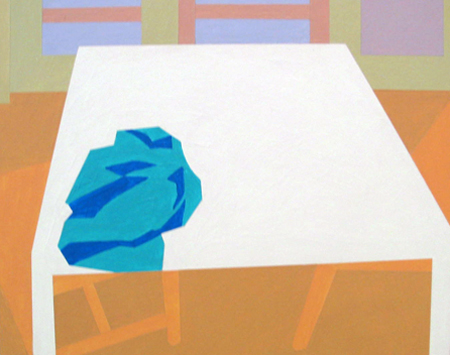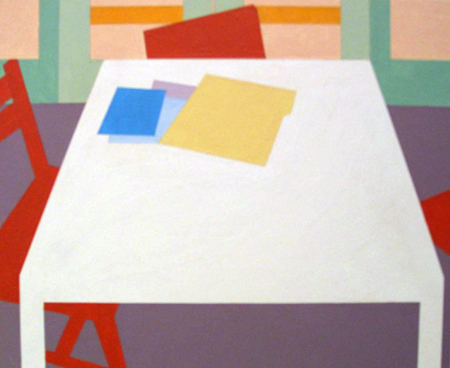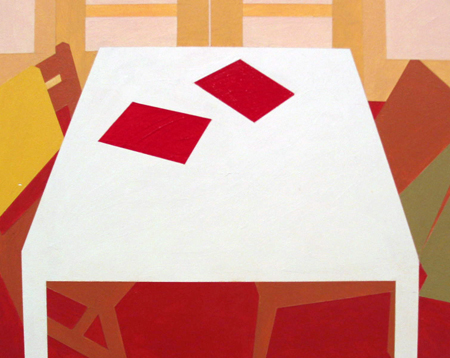 When displayed en masse (as is the case with Hughes' exhibition this weekend at
407 West San Antonio Street
in Marfa) the 54 separate paintings work together to create a harmonious whole. Hung in a grid, the paintings function together as a single work but stand just as well on their own. Although each work depicts more or less the same scene, the background colors change drastically from painting to painting. Although Hughes' varied palette includes such clashing colors as brick red, lavender and teal, she manages to maintain a balance of colors.
Hughes' studied, near-obsessive portrayal of her own living space draws attention to the space in which her paintings are exhibited—the home of
David Lanman
. Lanman builds and adapts structures in Marfa to create what he calls "non-specific spaces," including Hughes' former residence on
Lincoln Street
, the space she captures in her paintings. Lanman's intends to create environments appropriate for multiple uses, but, as demonstrated by Hughes' exhibition, his buildings lend themselves to the creation and display of artwork.
Hughes regularly posts images from
Timelapse
on her
website
, but to see her work in person, stop by 407 West San Antonio 6-8 p.m. Friday, September 3, or noon-6 p.m. Saturday, September 4.