Kyle Olson
uses the simplest of materials – bubble gum, playing cards, cloth and wood – but that doesn't make his work easy to understand. With titles such as "Not Titled, Not with Name," "Not Called Untitled" and "Not an Untitled Work," his conceptual sculptures can be mysterious and enigmatic, yet most are artfully appealing.
A student of Enrique Martinez Celaya, Olson says it is possible for an artist to be too clever, though he tries to have fun with some of the art world's readymade perceptions.
"I try not to come at things from too intellectual a position while trying to make the work emotionally involving," Olson says, though he often references philosophers such as Hegel and Descartes in his conversation.
Olson's "It's Rigged" is on view through Aug. 14 at the Blue Star Contemporary Art Center. A member of the adjunct faculty at Texas Lutheran University in Seguin, he has an MFA from the University of Nebraska-Lincoln.
Bubblegum may be the most common component of this work, though he's also working with packs of cards that friends have brought back from trips to Las Vegas. Chance and circumstance seem to play a major role in his work.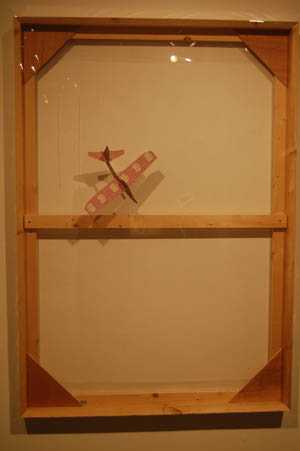 In one of his "not named" works, a plane appears to be falling out of the sky as glimpsed through a window. At the San Antonio International Airport, he created a cloud of planes that appear to be stacked up in a complex holding pattern. But his planes are suspended from nylon line, and they appear as if they might drop out of the sky at any moment. What's holding them up is our own belief in the illusion.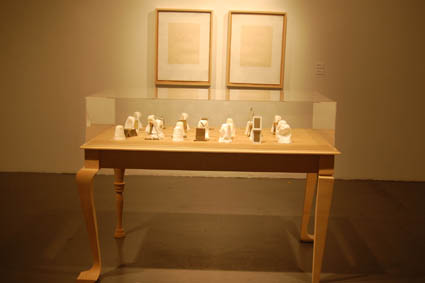 A game board dominates the middle of the Project Space at the Blue Star. Olson said he read about the prisoners at Guantanamo scratching poems into the sides of Styrofoam cups. These "cup poems" have been published in an anthology by the University of Iowa Press, "Poems from Guantanamo: the Detainees Speak." They carefully turned the cups inside out to hide the poems.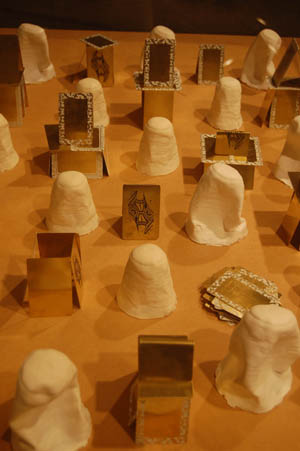 Though the detainees can be punished for having more than one Styrofoam cup in their cells, they sometimes use them to play games with the guards. And Olson uses the turned inside-out cups almost like pawns in a game of global chess in his fanciful board game.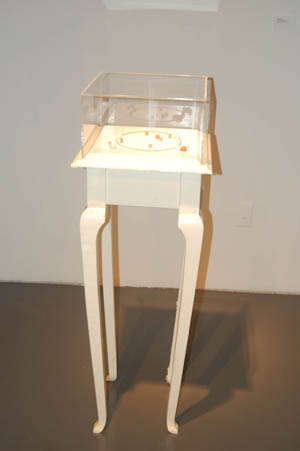 "Really Not Named" appears to be a game of marbles under glass. Though the "glass" is acrylic, the marbles are balls of bubble gum and the table, rather than carved wood, is made with cast resin. Olson says his mother is a mathematician and works such as these are inspired by his interest in game theory.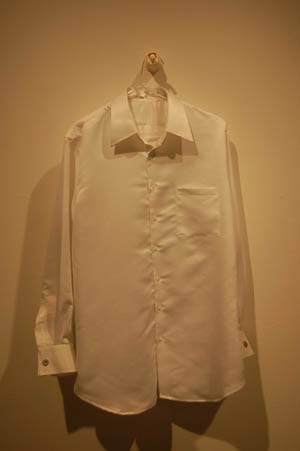 He experiments with restoring the figure to his work in a piece that looks like a white shirt on a hanger. The shirt is made so that it will look good on the hanger, though Olson says it doesn't really fit that well. Another large wall piece appears to be a curtain, though what it hides is more a product of the imagination than any kind of reality.
"People are always concealing and revealing things," Olson says. "No matter how honest they are about things, they usually hold something back."
Olson might have been talking about himself. His work may not reveal itself easily, but he doesn't let his conceptual approach prevent him from making objects that are both beautiful and a source of wonder.