"Tell your own story, and you will be interesting…"-LB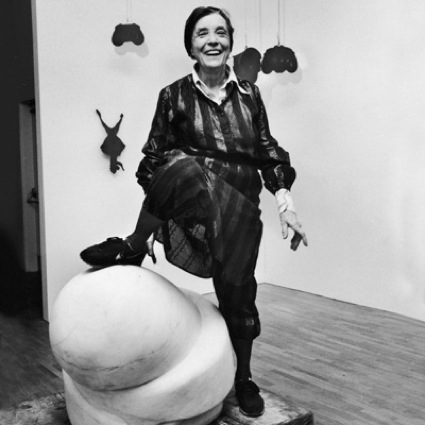 I came to art pretty late in the game. As an undergraduate I transfered into the University of Washington and became an art major. Unaware of what that really meant, my education quickly followed supported in part by my job working at the UW's contemporary art museum – The Henry Art Gallery. In January of 1989
Louise Bourgeois: Work 1943-1987
closed at the Henry. It's residue lingered in books, postcards, and a particularly memorable poster that I looked at everyday while at work in the Museum's bookstore almost 2 years later.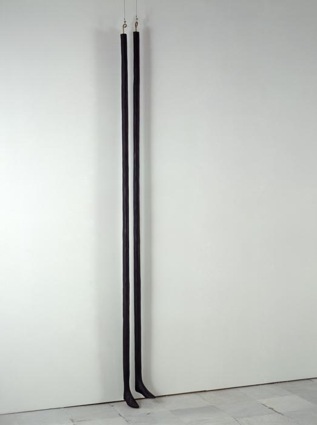 The poster for the show remains in my collection to this day and is packed away for safe keeping once I saw the tattered edges showing signs of disrepair. Those long opaque black legs were set against a HOT pink background – demanding and aggressive, yet childish and graphic, like much of her work. The poster pulls you in with sweetness but leaves you thinking about much more than sugar. I could not find an image of the poster but the sculpture it was based off of is above and here is a
video link
to Curator Frances Morris from the Tate Modern, where the show originated, on meeting Louise Bourgeois.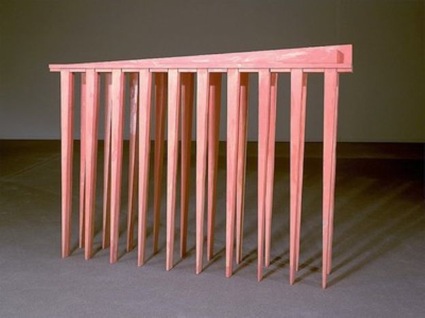 Louise Bourgeois's work encompassed drawing, prints, installation and sculpture. The sculptures are made of wood, steel, stone, cast rubber, plaster, and later sewn fabric. She began with a traditionally male vocabulary in her material choices whose forms would often become organic and feminine in her hands.  Her work was extremely personal, often sexually explicit and aggressive, emanating from memories of her father and her childhood. It was strong and ultimately successful because of its dark humor, intelligence, and craft. While her career covered many styles and shifts, her work's emotional content and personal integrity never left. It included ideas about the body, betrayal, and the human desire to be cared for and protected. Taken together, it is like a children's book seen through the eyes of a wise and worldly adult.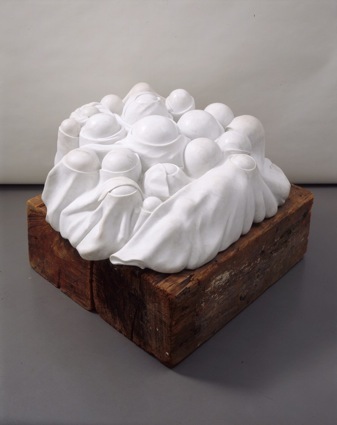 Bourgeois was little known to the greater art world until she was 70, when New York's Museum of Modern Art gave her a solo show. A seemingly driven work-a-holic, her latest pieces were finished just last week according to her studio director.Louise Bourgeois is one of the few artists who helped to build the foundation of my own artwork and one of the few I have have not outgrown. Perhaps it is because she continued to grow over a lifetime that not only spanned 98 years, but also major cultural, political, and technological shifts. She continued to push herself and her work while being aware of the world around her. This is how she kept her work current and fresh without losing the personal connection that straddled material and content.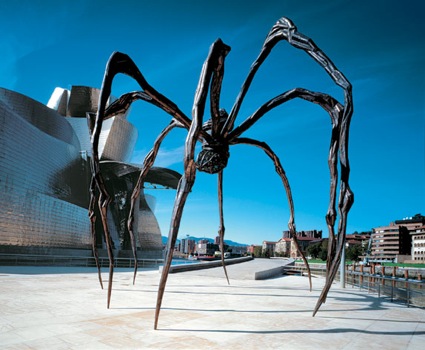 As a female artist I would be oblivious and disrespectful not to acknowledge her influence on not only my work, but the contemporary art world today. I hesitate saying female because the longevity of her career, the integrity of her work and the celebrity as well as dollars she was able to command demands respect despite your gender or aesthetic taste.Here is a
link
to her obituary in the New York Times by Holland Cotter.
Rest in peace Louise Bourgeois. Thank you for opening doors, raising the bar and being the french spit fire that you were. Rest in peace, that is if you are capable of and interested in the rest…