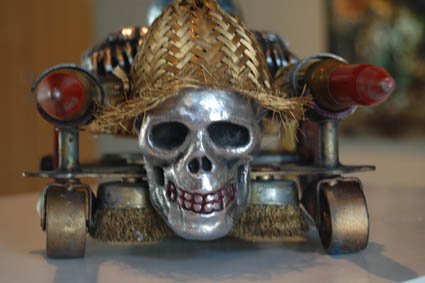 Jack Gron's macabre, medieval-looking cast-metal toys include a wheelbarrow heaped with skulls, the chilling curves of a hydrogen bomb and a grinning death's head that make three-dimensional the folly and futility of war.
As anyone who watches the Antiques Roadshow knows, cast-iron toys are highly sought after, and Gron's toys have the look of collectible antiques. But what if instead of bright uniforms and the glory of the battlefield, war toys showed the horror and destruction that are the inevitable result of military combat? Think Goya's "Disasters of War" in heavy metal.
"My work has grown into personal statements, experiences and reflections of the times in which I live," Gron says in his artist's statement. "I find satire and humor with an edge serve as powerful tools to enable me to state my views through industrial processes and materials."
Gron's "A View from My Toy Box" is on view through June 16 at Gallery Nord, along with new paintings and assemblages by San Antonio artist Missi Smith.
Head of the art department at Texas A&M University Corpus Christi, Gron is originally from Steubenville, Ohio, where his family worked in steel mills, plants and mines. He worked on blast furnaces producing iron that was converted into machine parts as well as structural and sheet steel. Now he uses these industrial processes to make sculpture. While his earlier works appear more formalist and abstract, these latest pieces are playful and accessible, but with a bite.
A shiny, silver-colored, smiling kewpie doll — like a little angel run amok — pushes the wheelbarrow full of skulls in "Angel of the Harvest." With rust-colored stains accenting its crevices and creases, a giant skull rides in a wooden wagon being pulled by a bomb across a battlefield strewn with bones, bullets and the bodies of soldiers in "Celebration Parade." "Pacifier" could be a suitcase-size atomic bomb. A death's head wearing a straw hat grins evilly from the grille of "Little Sweeper."
Grisly and with a dash of Big Daddy Roth meets Halloween, Gron's war toys are handsomely crafted, yet appear old and worn. Gron considers color important in conveying meaning and emotion. He rubs oil color into the surfaces, buffs them, and then seals with a clear lacquer or wax, which creates a stain or patina that allows the metal to shine through. He uses forged, fabricated and cast metals as well as steel, stainless steel, bronze, brass, cast iron and aluminum.
But not all the pieces are war-related; some just comment on everyday atrocities. A clown's head delivers a hamburger on a wagon in "24 Hour Delivery," with only a small skull riding the front-end plow. Cubicle-dwelling salary slaves can probably identify with the man who hanged himself over his desk chair upholstered with spikes in "Chair-man I Don't Like Mondays." A space shuttle that looks ready for the wrecking yard blasts off in "Monument to a Crumbling Culture."
With a BFA degree in sculpture from the Columbus College of Art and Design in Ohio and an MFA from Washington University in St. Louis, Gron operated a sculpture studio in Chicago and taught at the University of Cincinnati, University of Kentucky and Northern Arizona University before moving to Texas in 2005. He's also taught internationally in Italy, England and Poland, where he had an artist residency in 2007 at the Academy of Fine Arts in Gdansk.
In Corpus Christi, Gron has created a Mobile Foundry, equipped with a portable crucible furnace fueled by bottled propane, which he uses to visit schools and introduce students to the joys of molten metal.
The BP oil spill has added resonance to Louisiana-native Missi Smith's blackened paintings and assemblages, which can appear like wet debris daubed with thick splatters of tar. She began the series called "Some Kind of Wheel" as a response to the Katrina disaster of 2005, using found objects textured with expressionistic slashes of paint. Some of her new paintings at Gallery Nord resemble aerial views of the BP oil spill — green, blue and orange organic forms surrounding floating gobs of tar.
"I have used objects that have been discarded or lost and considered to be trash and with them created surfaces and environments that hopefully provoke the viewer to reflect on the mysteries of our history and our powerful relationship with the planet and the universe," Smith says in her artist's statement. "It can be a dirty business but also an exciting and challenging one."
Other paintings have more of a suggestion of architectural forms, such as a pair of black slablike monoliths. Another suggests the sun setting in a haze of pollution. She doesn't title her paintings, but her assemblages of boxes, lumber and wire covered with bright bursts of natural color spotted with Industrial Age soot suggest the uneasy reliance between the manmade and natural worlds. While Smith says she hopes to encourage people to reuse and create something new from discarded materials, her paintings also reflect mankind's trashing of the natural world.