Albert Paley's "archisculpture" ranges from the portal gates of the Smithsonian's Renwick Gallery to a fanciful 130-foot-long archway for the St. Louis Zoo. But he's also known for his large-scale abstract sculpture. Recent commissions include a 100-foot tall new work, "Evanesce," for Monterrey, Mexico, and a monumental 70-foot-high steel-and-bronze sculpture, "Sentinel," for the Rochester Institute of Technology, where Paley holds an endowed chair.
Five of Paley's towering works, two figurative and three abstract, are on view through next fall as part of "Art in Garden" at the San Antonio Botanical Garden.
A young woman frolics with gazelles on top of Paley's dramatic 15-foot tall archway, "Penumbra," which he created in a response to the collections of the Toledo Art Museum in a show with Jim Dine and Therman Statom. Built in layers of rust-colored CorTen steel and shiny stainless steel, the archway has neo-classical lines, including the suggestion of Greek columns topped by waving banners, a sunrise and clouds and traces of stars.
"I was responding to Paul Manship's sculpture 'Dancer with Gazelles," Paley said. "It just seemed to evoke the whole spiritual nature of human experience."
Manship is probably best-known as the creator of the "Prometheus" at New York's Rockefeller Center. But Paley breaks with the neo-classical in his richly gestural lines, which make his work seem like rapid drawings done in metal. Paley said he does a lot of drawings for each piece. And he fabricates all the pieces with the help of the 16-member crew at his studio.
"I develop all of my ideas through drawing," he said. "But I also have to think about how to turn them into metal. We do a lot of cutting and organic bending of the plates, so we're not melting the metal and using molds. Generally, I consider myself an abstract sculptor, but I have become more and more interested in the figure. I do a lot of site specific work, and I want to create pieces that engage the whole spectrum of human responses to the site."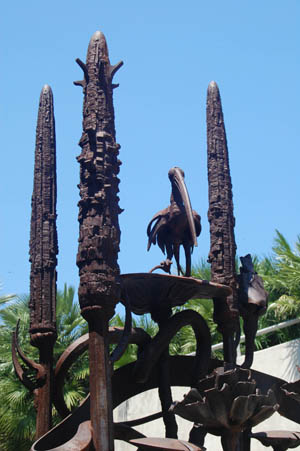 A strange, storklike bird lifts a leg on top of Paley's "Genesis," a nearly 18-foot tall tower with roots that might be cypress, tall stalks topped by mysterious conical flowers resembling cattails and suggestions of waves or currents underwater. Originally intended as an archway for the Central Park Zoo, "Genesis" wound up being part of the archway at the St. Louis Zoo. The bird and plants are imaginary, the artist playing god, like the crocodilian fish that isn't really an alligator gar. This surrealistic natural history lesson seems right at home amid the flowering grounds of the botanical garden.
Paley's abstract sculpture freeze moments of enormous energy, what he calls "statements of arrested motion."
The shadows of palm tree fronds form the perfect backdrop for "Interlace," made up of steel plates cut to resemble cartoon explosions, though the spiky forms easily can be mistaken for tropical plants. The play of light and shadow on this piece means it rarely looks the same way twice during the course of the day. "Cross Cut," featuring rust-colored flames and silver smoke, suggests a bonfire.
"Evanesce" is the prototype for the much larger version he plans for Monterrey. With pieces resembling graph charts cut out of silvery metal and stacked like puzzle pieces, it suggests a tower of stacked lightning. Paley said the 100-foot tall bright yellow version will be part of a 45-mile-long riverside corridor of public art that the Mexican city is developing.
The first metal sculptor honored with a Lifetime Achievement Award by the American Institute of Architects, Paley has works in the permanent collections of the Metropolitan Museum of Art in New York and the Museum of Fine Arts in Houston. This spring a retrospective catalog will be published, "Albert Paley in the 21st Century."