So I'm having a BEWITCHED moment – one where I wish I could wrinkle my nose and be magically transported to another place and time. This past weekend The New York Times featured a slide show suggesting 36 Hours in Houston. That's exactly what I was thinking, but while they mentioned some great spaces they left out the most important reason to go… the actual art.
"Cosmos is a Greek word for the order of the universe…It implies the deep interconnectedness of all things. It conveys awe for the deep and subtle way in which the universe is put together." -Carl Sagan, Cosmos, (1980) P.10.
"Cosmos" is also the title of the 2 person show at Art Palace this month and describes the interconnectedness of Los Angeles artist Emilie Halpern and Austin artist Eric Zimmerman. I stated in my first blog post that I am an artist, not a critic and this blog is a place for me to share things I believe in. That said, Eric is a friend who I first met as an artist. We were in a show together with Jonathan Marshall at Mulcahy Modern Gallery back in 2007. Our friendship has grown over the years due in part to my respect for his practice as well as his art. Intelligent, obsessive, and beautiful are just some of the words I'd use to describe his work. Also an author to his own blog CABLEGRAM which includes "dispatches" — a project that invites outside contributors and is intended to provide a forum for a variety of voices and perspectives including artists, curators, scholars, and critics. After one year the posts will be published as a book. Eric is a work-a-holic, just my kind.
He was originally offered another solo show at Art Palace, but he thought it would be more interesting for everyone to extend an offer of collaboration to Emilie, an artist he had met while they were both residents at The Vermont Studio Center. In this exhibition Halpern's photographs and sculpture are paired with Zimmerman's graphite drawings, etchings and sculpture and at the center of it all is a collaborative piece projecting the artists' voices as they read from Carl Sagan's text Pale Blue Dot. The alternating sentences loop endlessly through a pair of Califone tape recorders placed side by side on a circular gold foil blanket.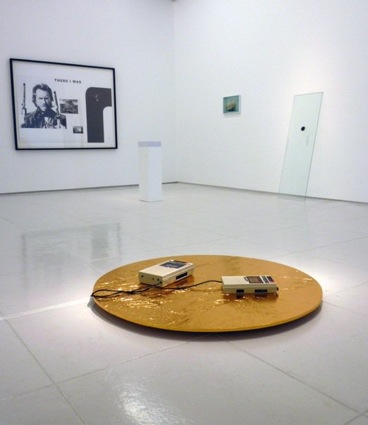 "The piece speaks to notions of place, pairing, and collaboration, along with the further development of the ideas that are central to both artists' individual work." according to Zimmerman. I did not make the opening but I will see this show and I hope you do the same.
Also of note in Houston is Sterling Allen's work in "Full Court Press: Selections from Art Palace, Inman, and CTRL Galleries" at the Inman Gallery's Annex (3917 Main St.), the Mauizio Cattelan show at the Menil and the Yes Men at Diverse Works.