Anita Valencia is a queen of recycling, creating large-scale public sculpture from aluminum soda and beer cans as well as intimate "paintings" from bottle caps, which she's debuted at the Cactus Bra Gallery as part of Contemporary Art Month. Next door at Three Walls, Hills Snyder has recycled carpets from an exhibit he curated to create the world's most impressive cat tower.
Both of these snug galleries can be found in the ground-floor hallway of Building B in the Blue Star Arts Complex. Cactus Bra is managed by Leigh Anne Lester , who usually can be found working nearby at San Angel Folk Art. Video artist Michele Monseau operates Three Walls, which fills the front part of her studio. While the galleries are small and only open during events such as First Thursday and First Friday or by appointment, they usually present finely focused small shows by solo artists, who often step outside the commercial box in these artist-run spaces.
Valencia is having her first gallery show in five years, although she's been busy with major public art commissions. She used more than 4,000 aluminum cans to create "Perinolas," which is Spanish for whirligigs, for the new Grand Hyatt Hotel downtown. Resembling a flock of little doves fluttering over the escalators in the hotel's main lobby, "Perinolas" is made up of 2,500 propeller-like pieces. Her most recent commission featured butterfly shapes cut from beer cans, which she calls "beer flies," for a hotel in Montreal.
At Cactus Bra, she's showing her bottle cap paintings, which she tends to work on during her spare time. She turns the caps upside down and then glues them in regular rows to her canvas, sometimes building up two or three layers. She uses a strong jeweler's glue to secure her layers of bottle caps. She applies gesso to the caps and then paints them bright metallic colors, sometimes building up two or three colors for shimmering effects.
Most of the caps are from mineral water and beer bottles, though her bright acrylic colors make them seem like something from a jeweler's hand. Her titles, such as "New Year's Day" or "Twilight," are suggested by the time and day she finishes the piece. Though she doesn't use fluorescent colors, the paintings tend to glow in low light, reflecting light in such a way that some colors pop out as dots floating in space for an even more three-dimensional effect.
"Doesn't matter what else I'm up to, the bottle cap paintings are always there for me," Valencia said. "I spend a lot of time getting the colors just right, changing them and painting over if I don't like it. I want to seduce viewers with the color, but I also want them to think about how much we consume and throw away. I try to transform trash into treasures."
Valencia has served as the president of the Blue Star Contemporary Art Center's board as well as on the San Antonio Fine Arts Commission and the city's Historic and Design and Review Board. She cut aluminum cans into spiraling strips for "Aguaceros" or "Cloudburst," that is suspended from the ceiling of a two-story space in the Frio Building at the UTSA Downtown Campus. She folded aluminum cans into origami shapes for "Rain" at the South Texas Blood & Tissue Center, and her "Lone Star CANdelier" hangs in the Convention Center.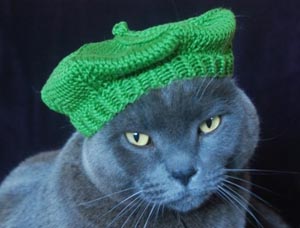 Snyder curated "Lonely Are the Brave" for the Blue Star last summer as the centerpiece of the last CAM in July. His installation included a campfire, surrounded by a Persian rug with a hole in it, through which a rabbit peeked. Snyder's cut up the carpeting to cover an approximately 8-foot-tall replica of the Eiffel tower that he built for his cats using lumber and weather-stripping nails. The intricately patterned swaths of rugs completely coat the tower, which features a central hole for easy cat access. Along one wall is a shelf lined with books, which Snyder calls "a stacked reference to the opposing buttresses of Eiffel's tower."
But he can't seem to shake the specter of 9/11. The lighting in the small, three-walled gallery is set up so the cat tower casts twin shadows that eerily resemble the silhouettes of the World Trade Center towers. With its Persian skin and shadows that might be cast by suspicion and finger-pointing, Snyder's "Cat Tois" (pronounced ca-twa) reminds us of how much we were supposed to dislike the French in the early days of the Iraq War, and the dangers of faulty intelligence. Mainly, though, it just shows that there's no zealot like a kitty convert.