Every day I scan the web for Texas-related art news; to help me in my tireless quest, I've got a list of likely bookmarks I check often. They are the rocks I turn over looking for that elusive quivering newsy bit that I carry back to you, dear readers, each morning. It being the end of the year, those rocks are crawling with toplists of 2009, so, in the true aggregatorial spirit, I present here my own list, the "best of the best lists" smearing further layers of fluffy pseudo-analysis over your new-year's sandwich: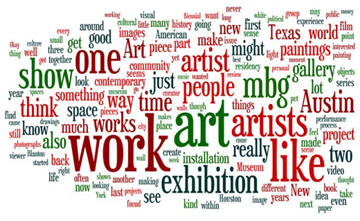 In Fluent Collaborative's Might Be Good journal, editor Claire Ruud sums up the year in the Austin art scene, but the word cloud diagram at the head of the page showing the frequency of words used in the online journal last year tells the real story.
Veteran blogger Paddy Johnson asked 18 of her web-friends to each suggest a single top pick for her year-end list of the best of the web, resulting in an eclectic mix that tops out with a vulgar surrealist Star Trek mash-up clip on YouTube suggested by Howard Halle, an editor at Time Out New York. That's the web for ya. But at least I can insert this photo of Marcel Duchamp as Data.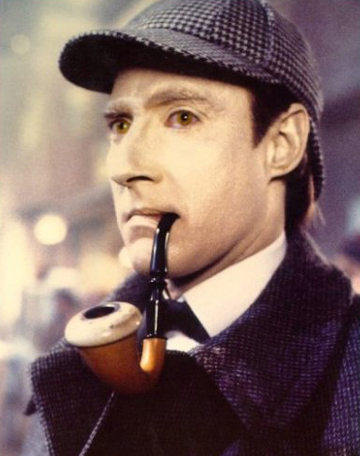 To avoid listing the same 25 top movies of 2009 yet again, Grady Hendrix on Slate.com lugubriously lists the ten best films you didn't see this year, but you should have. Maybe a new year's resolution?
In case you're regretting leaving the 00's, Fansided.com has a comprehensive list of the ten best reasons to leave "one of the most embarrassing decades of all time" behind. It's all there, with spine-chilling accuracy: everything from The Snuggle blanket to George W. Bush.
If you, like me, got an I-pliance in your stocking, you have discovered by now that one of the year's top phrases, "there's an app for that," refers only to time-wasting crap. Gather.com's top ten iphone apps for the year includes a gizmo that alters your voice into that of a puppy, kitten or guinea pig. 'Nuff said.
The Houston Chronicle's Douglas Britt lists 6 Houston art happenings, including one of my favorite shows, Rachel Hecker's my world is really small and you are in it at Texas Gallery.
Rachel Koper does the same for Austin, with 9+3 best happenings in Austin, including Jill Pangallo's TX Biennial performance and OK Mountain Corner Store at Art Basel Miami. So far as I can tell, nobody made a top ten art list for Dallas/Ft. Worth, but there really ought to be a place somewhere for the Kimbell scoring Michelangelo's Temptation of St. Anthony.
Finally, in addition to featuring is own "best of the best lists," the Houston Chronicle also ran a story yesterday about a lamb's head found in a microwave oven at Ikea. Well, better year next time. . .