The Joanna Resort Hotel and Gallery
DISCLAIIMER: I have not nor will I ever accept any gifts from the staff and management of
The Joanna Resort Hotel and Gallery
. Furthermore, in order to fit in all five photographs, I just stuck them any old place, regardless of whether they sync up with the story or not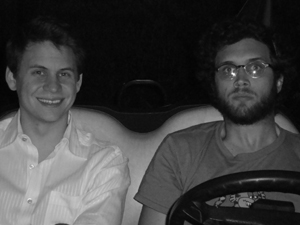 As
a writer,
artist
,
actor's wife
, and
mother of thirteen
(
Bee, Cringle,
Davit, Almeda-Genoa, Hank, Lagan, Orlop, Scupper, Snotty, Spanker,
Tuck, Walty,
and
Kaitlyn
), I lead a
harrowing
and stressful life, so
you can't imagine how happy I was to discover
The Joanna Resort Hotel
and Gallery
, located in the heart of the
Menil District
.
The Joanna
is
a
full service resort
offering a wide range of
amenities
, including an
upscale art gallery featuring some of Houston's most talented
established and emerging artists.
Before I delve any further into this essay, I need to make a full
disclosure. First and foremost, Snotty is not really a child, but
rather a long term sinus infection. Secondly, under the new F.T.C.
rules, I must now let you know up front that the subjects of this
piece, The Joanna hoteliers Brian "Paraflagellar" Rod and Cody "Lead
Poisoning" Ledvina, have promised me thousands of dollars in school
vouchers, which they swear will be mailed to me sometime "after the
first of the year".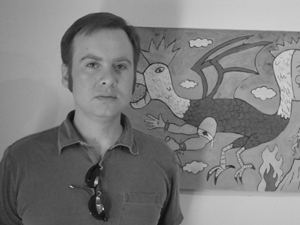 Recently I spent eight days at The Joanna, which gave me a chance to
fully live The Joanna experience. Originally I intended to
stay but a day, but after realizing I was in what could be described as a
hostage situation, decided to go with the flow. While at the resort, I explored its palatial premises, experienced its many features, and attended two shows (The
Halloween Show: Stephanie Martz and Jon Reed, October 31 – November 7,
2009 and Maria Guzman: Alejandra, November 7 – November 28, 2009) at
The Joanna Gallery.
.
At the beginning of my stay, I sat down with Rod and Ledvina to get a
little background on the origins of the resort. Here is a sampling of
our conversation.
EFGITWDT: Whencesoever the name The Joanna?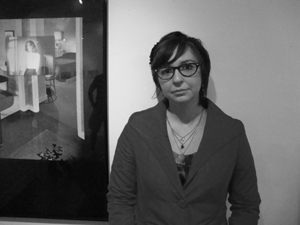 C. L.: When we were establishing the hotel and gallery we wanted to
give it a classy name, you know, something along the lines of Scott
Gerner's Skybar or Ruth Chris Steak House, and so decided to name it
after the love of our lives, a woman that we had both been fighting
over for years, Reba sitcom star Joanna Leanna Garcia. Our original
intention was to call it by her full name, but then Brian, unbeknownst
to me had already named his athletic cup this, so we had to call it The
Joanna to distinguish between the two.
B.R. (mutters under his breath): It wasn't my cup, it was my truss, you lying piece of shit.
The hoteliers favorite means of transportation is a golf
cart, which put me in the mood to play – you guessed it – Golf! I must
say, I was a bit dismayed, as the golf course looks nothing like that
described by The Joanna golf pro/featured artist Jon Reed:
Located on 409 acres in the Museum District, The Joanna Golf Course is
frequently cited as one of the nation's most outstanding private
courses. Rated 4-Stars by Golf Digest's "Places to Play" and ranked
among the "Top 75 Private Courses" by Golf Digest, this course offers a
spectacular combination of scenic and challenging holes.


I'm no golf expert, but the first hole resembles a toilet, and the nine
iron brought to mind nothing less than a Lady Gillette. While I was
standing there debating which club to use, a rather harried gentleman
with a not so mild case of indigestion played through, and as I feared,
forgot to flush and entirely skipped the adjoining second hole.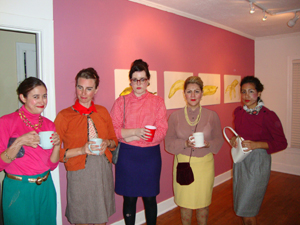 And speaking of indigestion, don't let me forget to tell you about a
dining experience unlike any other. After eight grueling hours of the
Scotchman's Sport, I was famished, and decided to get vittles at The
Kitchen, The Joanna's awarded winning restaurant and bar. When I
arrived I was graciously greeted by manager/chef/featured artist
Stephanie Martz known around the world for her Halloween inspired works
of art and daring ways in the kitchen. That evening Stephanie's East
Meets West fusion specials included Chana Masala Slim Jim and Cheeto
Ohjingoe Bulgogi. Although tempted, I decided to go with the cheaper
fare, and chose instead the truly regrettable Cody's Leftover 7 Layer
Burrito From Two Weeks Ago.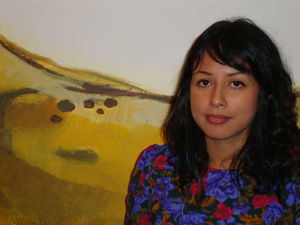 If you want entertainment while you eat, The Joanna also features a
floorshow experience. All dances performed by The Joanna's in-house
dancers, "The Alejandras," are choreographed by featured artist Maria
Guzman, known for her performance based art and innovation work in the
area of mashup dance movements. For the first set, Guzman's aged troop
overlaid vainly attempted Busby Berkeley rolldowns with more
successfully applied limited axial movements, bringing to mind no less
a genius than Sit to Be Fit dance legend Mary Ann Wilson, R. N. My
favorite piece was an underwater ballet, fully replete with walkers,
mouth-to-mouth resuscitation and a particularly enjoyable wailing
ambulance in the last act.
I recommend The Joanna to anyone, especially to those whose family
members are willing to procure their release through the provision of
the a large bag of unmarked bills left discretely next to the tennis
court located across the street.
Next time unmasking the Beth Secor imposter at Inman Gallery!