Ok, admittedly, I'm just waking up at 11:27. You might be lounging yourself, thinking hmm…what might there be to do today? Well, if you live in Austin, Texas, get moving! Guzzle that coffee and join me on a lovely expedition.
First stop? Arthouse, where the folks have already been in action for twelve hours building and destroying a massive, cardboard model of Rome over the course of the last millenium. They're building and destroying at the rate of 1.238 years per minute! Ahhh!
Make sure to check out the schedule …I hope to make it in time for this:
12:27-12:31 pm:
-Carthage is destroyed, signifying the climax of Roman colonialism
-Sacrificial destruction of a constructed effigy
-Pizza Party!
Um, totally awesome.
Next stop? New Lora Reynolds show! Their official opening isn't until October 9th, but it's up and moving as of today. Check out my endorsement in Glasstire's fall previews. Some serious art crushes are up in this joint. Sweet.
(Ok, phew. I'll probably make a quick stopover at Justine's and throw down some cocktails and escargots. Wait, you say you haven't been to Justine's yet? Jesus. You're missing out, seriously.)
Then I finally get to head eastbound to the Monofonus Press compound, where they are hosting a one night only art and music show. Monofonus never gets old, people. This is gonna be tons of fun. The art portion of the evening goes 6-9, then music starting at ten over at recording studio Baby Blue, the home of local music hero Bill Baird.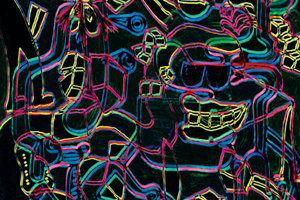 Sandwiched in between all this is, of course, is Devin Flynn's Okay Mountain opening, SuperStupid. Involved in legendary Fort Thunder-era Providence, Flynn's aesthetic really has shaped a generation of makers. The artist navigates that tough space between the commercial and art worlds, and this solo show is really quite a leap for him. I'm excited to see what he has in store.
Join me, friends, on this epic adventure. It's going to be a great day! Now if I can only get to Arthouse fast enough for cold pizza…