Last week I went to the opening for Artpace's first New Works series of the year (09.1
for those of you who love numerals), curated by Trevor Smith from the
Peabody Essex Museum. Not that it's a competition or anything, but the
premise of their series – one International artist, one national artist
and one Texan artist – makes it almost impossible not to compare and
contrast the relative merits of each artist's production over the
course of their residency in San Antonio. This is part 2 (read Part 1 here) of 3.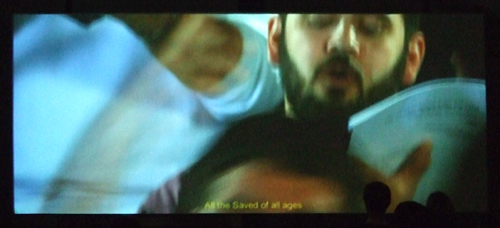 "Second place" in New Works 09.1 goes to
Richard Grayson
. Interestingly, Grayson's video installation
The Golden Space City of God
,
which
I was not particularly interested in based on some of his earlier
work I'd researched and seen online, proved to be just the sort of
thing I can sink my
teeth into. It's a large video projection of a choral
performance based on some texts from
The Family/The
Children of God
religious cult found online (yay internet!). It's mostly a wide shot of
the performers singing, with some added close-ups provided by a
floating,
creeping camera, an all-seeing eye that, like UFOs or angels, floats in
space and records impressions of the individuals that make up the
choir. Aesthetically it's not all there, because there just isn't
enough
consideration of aesthetics. It's sort of not the point here. Instead,
Grayson's video installation is perhaps best thought of as something
conceptually viral, taking up space in your brain and evolving over
time. I understand it and think about it more now, a week after seeing
it, than I did right after seeing it, or even while I was still at
Artpace. It's terribly British, recalling other photography and video
works by
Gillian Wearing
or
Phil Collins
: chock-full of references to
Medieval and Renaissance religious images and elements, "regular
people," and is very interested in the implications of the act of
looking
and recording.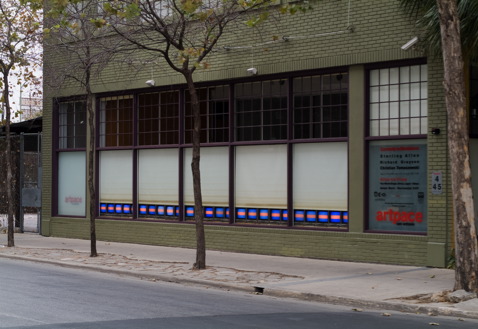 Also of note is [Marfanite? Marfan?]
Adam Bork
's WindowWorks project
Horizontal XXV
. It's gorgeous and hypnotic, especially at night, when
the streets are empty and the 25
vintage Commodore computer monitors
that line up to create a long horizontal line really glow and manifest
saturated video hues, color fields reminiscent of
Mark Rothko
or
Barnett Newman
. A steady and reverberating electronic drone sountracks
the piece and feels synaesthetically linked to the gently cycling
colors on the monitors. It's a fantastic formalist exercise in what
these monitors, and video as a medium, can achieve with color/light.