Last week I went to the opening for Artpace's
first New Works series of the year
(09.1
for those of you who love numerals), curated by
Trevor Smith
from the
Peabody Essex Museum
. Not that it's a competition or anything, but the
premise of their series – one International artist, one national artist
and one Texan artist – makes it almost impossible not to compare and
contrast the relative merits of each artist's production over the
course of their residency in San Antonio. I'll start with my LEAST favorite:
Christian Tomaszewski
.
My previous enthusiasm
for Brooklyn reisdent Christian Tomaszewski's work (cf GT's
Spring Preview
) was quickly tempered when I found out that he had not
created another
Blue Velvet
installation and pretty much evaporated
when I actually saw the work he did make. Carving out a large room into
three separate areas using cardboard walls to create "three linear
corridors," Tomaszewski – I am told by the exhibition notes – "thematically
address[ed] the influence of architecture, the psychology of fantasy,
and the development of narrative." The first room contained a
text piece in neon that read "DID NOT EXPRESS IT IN KISSING OR HUGGING
OR EVEN TOUCHING." The side-corridor to the right contained a
two-screen video projection of mostly solid colors, some snippets of
dialogue presented as subtitles and some ambient noise. The
side-corridor to the left had a few prints of op-art patterns, some
other seemingly unrelated images, a hoop hanging from the ceiling and a
row of colored floodlights that joined to create white-ish light.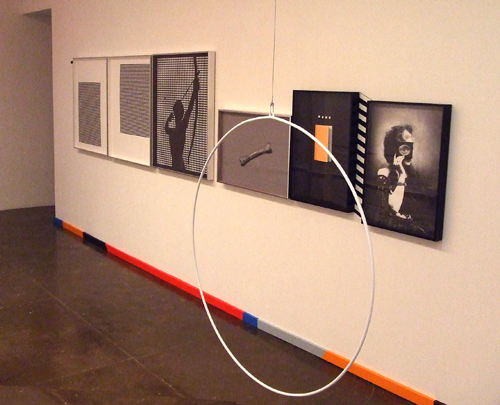 The
main impression was that Tomaszewski has been reading some "rigorous"
shit. It seemed pretty insistent on density and obtuseness, as if those
two things somehow equate to merit or aesthetic appeal. Furthermore, I
wasn't really able to figure out how these different parts all came
together to "address" architectural concerns, the psychology of fantasy or the
development of narrative, unless by that he meant it happens in rooms,
you'll have to make most of it up in your head and there's really no
story here. To sum it up in four words: it was very boring.