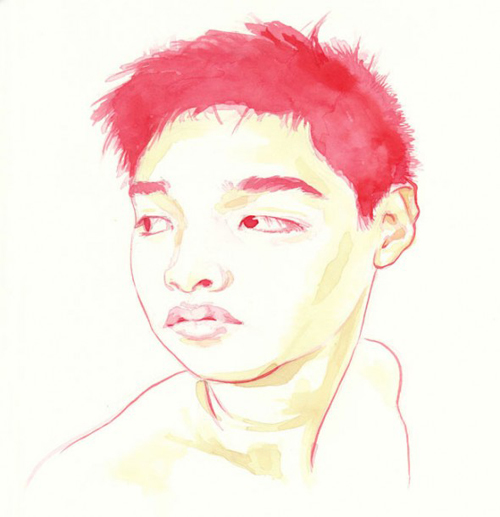 One of the problems, ok, scratch that word and let's say
issues
with arts writing in Austin is that it's such
a small community that if you don't have a conflict of interest with at
least half the things you report on after a year or two, then you're
probably not doing it right. That said, this blog is one of those
conflict-of-interest blog entries. Now, to get to the meat on the
bones,
Heyd Fontenot
's
Business in the Front, Party in the Back
at Art
Palace is a gorgeous and touching exhibition. This is what I was expecting when I recommended this show in the
Spring Preview
:
Heyd Fontenot's
gorgeous paintings and works on paper have a graceful way of presenting
the personalities of the models he recruits from his social circles so
succinctly and lovingly that the "nakedness" (his word) in the
portraits becomes an afterthought; more metaphoric than libidinal.
Fontenot's previously cherubic figures in bucolic settings that
bordered on caricature have evolved into more mature, elegant and
restrained compositions of fragmented bodies, all fleshy forms and
confident strokes.
And while I still find my "premonition" pretty accurate, there is so much more going on in this show. Let's CTRL+V some of it:
Rachel Koper for the Austin Chronicle:
Featuring groupings of large oils on canvas and montages of small
watercolors on paper, the exhibit shows a deep dramatic tension between
the characters. This is established with plenty of direct eye contact
and couples posing together. (…) In all of the large works, the situations are similarly loaded
emotionally and point to complicated relationships, partially requited
love, and a variety of longings. Are they tragic? No more so than real
life.
Sam Sanford for
Studio Journal
:
He exercises directorial control over his models, experimenting with
potential narratives and modeling behaviors – not de-sexualizing their
nakedness but freeing the situation from the constraints of mainstream
culture's normative ideas about sexuality and nakedness, freeing
sexuality from society's dominant storylines.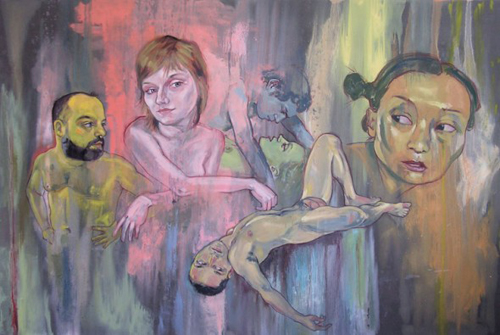 And
then, from the self-appointed Ivory Tower of Austin grad school thought
(and bi-weekly source of infuriation for yours truly), aka
…might be
good
, comes some dissenting points, that reminded me of something from
a New York Times article by Holland Cotter titled
The Boom Is Over.
Long Live the Art!
:
Debate about a "crisis in criticism" gets batted around the art world
periodically, suggesting nostalgia for old-style traffic-cop
tastemakers like Clement Greenberg who invented movements and managed
careers. But if there is a crisis, it is not a crisis of power; it's a
crisis of knowledge. Simply put, we don't know enough, about the past
or about any cultures other than our own.
It's
somewhat baffling to have Cathy Horyn's
Lone Star Style
, an incredibly
outdated article for the New York Times Style Magazine from way
back in 2006 invoked in the context of discussing Fontenot's show.
…mbg
editor Claire Ruud
mentions
as her impetus for quoting Horyn in this context that "in her
quest for authenticity, she transformed Arturo and Ali [Fitzgerald, who has since left Austin for Berlin], Art
Palace, Austin and Texas into one magnificently cool scene, one
idealized image of itself." It's also strange to drag Fontenot, an
artist who shows with way more regularity outside of Austin into the
almost 3 year old hype Horyn creates. Furthermore, Lauren Hamer's
weirdly personal review
of the show spends more time talking about how her friend
thought her ex was one of the models in the show, only to discover that
the friend had an ex who had posed for Fontenot. Even more worryingly,
she incorrectly states that "
all
of [the models] hail from the Austin
art scene," and misidentifies some donkeys and goats as "a small cast
of mild deer and elk and dogs." We get a decent review of the opening: it was packed, and Hamer ran into some people she knows. It seems there was some art there, but Hamer's factual mistakes make me wonder if she paid attention to the art or did a Google Image search at home.