#10 Finesilver Gallery
Finesilver, first of San Antonio and lastly of Houston, was one of those galleries that could be counted on for adventurous work and, seemingly, good sales. Despite red dots, a charismatic director and a good cadre of artists, assistants and installers, the gallery closed early this fall- without fanfare.
#9 Robert Chaney
An oilman who made a big impression as an art guru in the past few years, Robert Chaney brought Chinese art and YBAs to his family's coffers and the MFAH's collections. Before his suicide in his Hummer after the economic collapse Chaney's YBA wonderworld "End Game" dazzled (I don't use that word lightly, but sooo many people, artworld and outside, were talking about it) visitors with exemplary sculpture. RIP hustler, you will be missed.
#8 The Museum of the Weird
Dolan Smith will keep doing stuff. This is not the end. The man who once married Laura Lark and Paul Horn has an insatiable appetite for the weird. I heard that by 4 pm on the last day of the Museum the place was scrubbed clean. For all of y'all who scooped up the good stuff early, I salute you. In bars and homes and other weird museums the legacy of the Museum of the Weird will survive. And to Curtis, who stuffed all he could into that circle for five bucks and rode his bike home with all that crap, I hope you have fun with your meat grinder.
#7 NEA Credibility
Tony Chauveaux, former Texas Arts Commission Chairman and Deputy Director of the Ronald Reagan Presidential Library, will be appointed as the Chairman of the NEA in 2009, finally bringing watercolor bluebonnets to the national stage. This lawyer from Beaumont will totally screw shit up, I tell ya.
#6 Non-profits' Private Donor Base
Is it shrinkage? Is it the low price of oil? Either way everyone with a 501-C3 had better watch out in this new environment after the economic collapse. Got an extra grand to get rid of? Give it to an arts org- I'm tellin' ya, they need it.
#5 Helen Altman's Exhibit at Galveston Art Center
A Critic's Pick on Artforum.com and deserving of Texas praise, the unfortunate end of Helen Altman's sculptures came at the hands of Hurricane Ike. A ten-year retrospective, 15-foot long quilts, drawings on paper, plastic goldfish in bowls; $98,000 of artwork down the drain, along with the entire gallery. Maybe this #5 should lament the loss of the GAC, but like the city itself, they will survive.
#4 Stable Endowments
Besides the whole "Madoff-with-my-money" thing, any and every endowment in the country was decimated by the economic collapse of the financial market in 2008. Many were lured into investing in mortgage securities, convoluted hedge funds or real estate. Others were just in the bond or stock markets, and lost the "par for the course" 20-30% that everyone else had to eat. One way or another, universities, charities, museums, non-profits, public funds and municipalities were hosed in the fall of 2008, and everything from art to healthcare will suffer greatly.
#3 My Job at Glasstire
Yup, I'm canned y'all. Going on the long walk with a box of cubicle trinkets in a cardboard box. Leaving the factory with my hat in my hand. Swearing up and down that you can take this job and shove it, Rainey. Maybe I'll start a blog in spanish. Fuck you guys.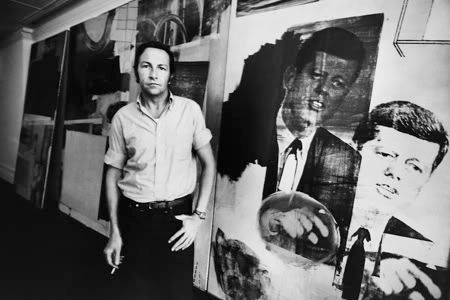 #2 Robert Rauschenberg
The patron saint of Texas art will be deified in his absence. Despite the influence of Black Mountain College, New York City and Captiva, Florida, no one should dispute the inherent Texanity (that's not a word) of Rauschenberg. Tactile materiality, outsider art sensibility, almost religious dedication to unilateral vision, Rauschenberg was the post we could all hang our hats on. Despite the fact that the tree has now lost its leaves, nothing will stop Rauschenberg worship in Texas. As Martha says, it's a good thing.
#1 Tom Jones
Former curator of the Art Car Museum, Tom Jones was a dedicated photographer and art car welder. When a young, drunk driver jumped the tracks on Heights Boulevard and careened into a parked car in front of the museum, three people were sitting on the curb. Two friends of Jones' jumped up and escaped, but Tom Jones did not. He had been hit by a car years ago, and his hip was not what it used to be.
The outpouring of love for Tom Jones was not unwarranted. He was truly one of the friendliest people I had ever met. Speaking like a Electric Kool-Aid Acid Test character, looking like a San Francisco bookstore owner, loving like a Texas farmer and building like a mad professor, Jones personified the entire Art Car community. He offered me help with projects without knowing me in the least. He partied with the best of them- jovial, quick-witted and sharp. Tom Jones was LITERALLY what we should aspire to be; a selfless human being in the throes of rapture with life, and still dedicated to craft. Leave flowers under the tree in front of the Art Car Museum on Heights if you know what I mean.