A couple of weeks ago the New York Times ran an article by Nicolai Ouroussoff that decried the pragmatism of today's architects, wistfully longing for more dreaming and less building. "Not so long ago", said the author, "many of the world's greatest architectural talents behaved as though the actual construction of buildings was beneath them." The piece praises Lebbeus Woods, notorious for his impractical fantasy, as an antidote, pointing out the value of impractical buildings as counterpoint to conservative, big money commissions. Am I crazy? I thought architecture WAS building, and that thinking about buildings (known as criticism) or drawing pictures of buildings (known as drawing) were something entirely different.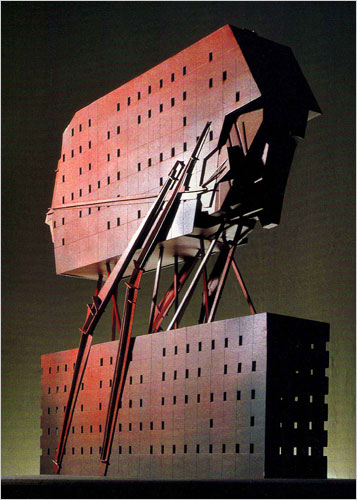 Lebbeus Woods, La Habana Vieja
I'm not the only one to blog about this, and, predictably, most bloggers disagree with Mr. Ouroussoff, seeing praise for Woods' paper architecture as wrongheaded. Gil Roth, in his blog Virtual Memories comments: "Let me get this straight: we're supposed to feel sad for architects whose main job was designing impossible structures that were suited for YES album covers? Continue with your batshit-crazy pity-party, Mr. Ouroussoff." while Delicious Ghost (whoever he/she is) calls Woods "retarded and naive," just the kind of philistinism Woods' cult followers love to hate.
But it's not so simple. Based on my reading of Ayn Rand's The Fountainhead and Dick Francis' Decider, the idea of architecture as a spiritual calling unfortunately bounded by the conditions of the material world is commonplace. It's a familiar romantic role that most artists used to embrace, and which some very successful ones still do. Why the fuss about it now?
In a piece he wrote last December, Ouroussoff himself analyzed the prosperity-borne quagmire emerging for architects and their critics: "The real issue here is not the architects' egos but a significant shift in the kind of clients they serve. In the United States, the enlightened homeowners and high-minded cultural institutions that made up the bulk of these architects' commissions a decade ago have now been joined by mainstream developers like Forest City Ratner or Hines — multibillion-dollar corporations who see an alliance with a high-profile architect as both a chance to raise their own profiles and to help push their projects through an often tricky public review process." The multibillion-dollar question becomes: are we OK with that? The answer depends on what you expect architecture to be. Ouroussoff himself seems split, apologizing in December for the same big money, big-name projects that he wrings his hands over in August.
That idea that Lebbeus Woods' work resembles that of Roger Dean, the illustrator of those famous YES album covers, is worth some further digging, especially since it turns out that Dean has himself been doing architecture since the seventies, and has actually built a building!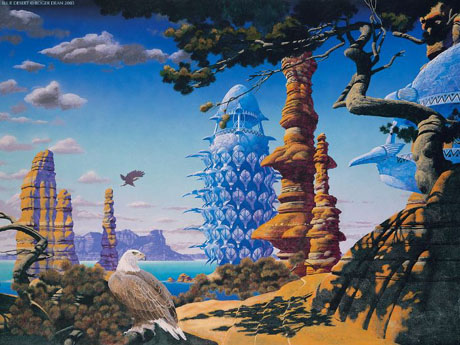 Roger Dean, Blue Desert