August is the month to get away from Houston's heat, and this year, as usual, I visited family in the UK, with a side trip to the southern France for espadrilles and a relief from the cold drizzle (known as "summer" in Britain), which, while a refreshing change from 90+ humidity at home, gets old fast on the beaches.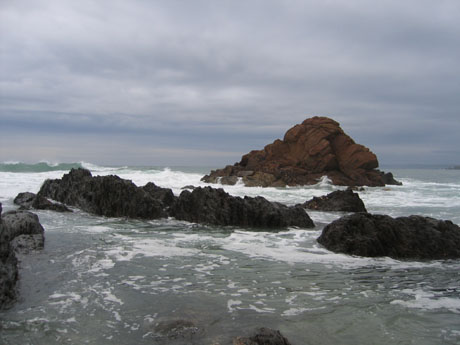 These are The Delvers, one of a series of pointy rocks along England's southern coast. The local post office/gift shop had a charming book titled "Shipwrecks of the South Hams" which, with many gleeful photos, cataloged every ship wrecked on them for the past couple hundred years. It's a thick book.
While searching for keen pebbles nearby, I came across this mysterious archetype in the sand. It's not a fire pit, or the remnants of a clambake. It's not exactly a figure, but it bears some resemblance to nearby druidic megaliths. Utterly temporary and ad hoc it's a manifestation of the art impulse al fresco.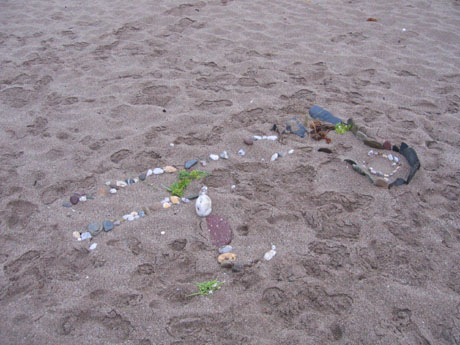 In a back alley in Antibes, France, I came across similar pebbles embedded in stucco. The plant motif, along with the piece's permanence, show clearly it's origins in a settled, agrarian society.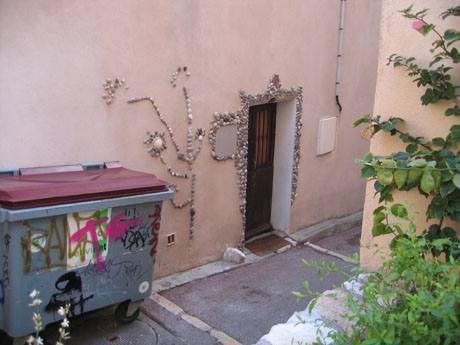 The only museum I visited was the disappointing Museé Picasso in Antibes. Upstairs, in Picasso's old studio, hangs a poor selection of the master's late works; the other three floors of the castle-like building by the sea are a warehouse of second-tier copycats: a testimonial to how much bad art can be inspired by one man.
Next time, remind me to tell you about the cheese shop and the old rectory.